On Your Side
Headstone finally in place a year later
Posted:
Updated: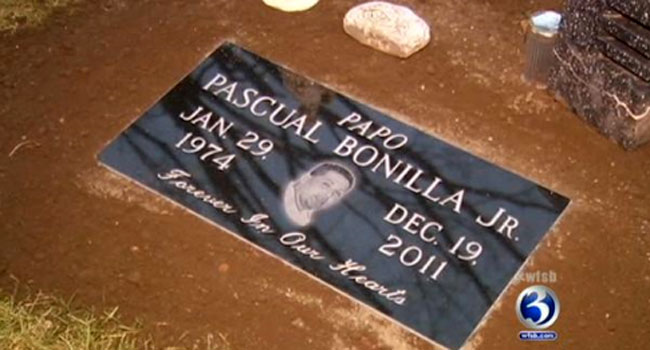 NEW LONDON, CT (WFSB) -
A grieving mother's long road to closure has finally come to an end as a headstone for her son has been delivered after waiting a year.
Friday was an emotional day for Damiras Rivas and her family. The pain of the past few months have come flooding back.
"She's put a lot of it on her shoulders, so it feels good for all of us just to see her a little more at ease," said son Sergio Rivas.
Damiras Rivas' oldest son, Pascual Bonilla Jr., died of a liver condition on Dec. 13, 2011.

In March, Damiras Rivas paid $460 for a gravestone with Waterford Monumental Works. Owner Steve Maynard told Bonilla's mother that he would get back to her in four weeks.
In October, Bonilla's grieving mother had still not received a headstone from Maynard's Waterford Monumental Works and the only contact she had with the owner was a text in May.
That is when Damiras Rivas turned to Eyewitness News.
"You really came through for us," said Sergio Rivas.
After the story aired, Tri County Memorials in Willimantic and Norwich offered to get Damiras Rivas a personalized headstone that her son deserved. Tri County Memorials delivered the stone on Friday.

"It was a long, drawn out process that finally has come to an end and everyone is at peace now," said Richard Brooks of Tri-County Memorials.
The Attorney General's Office wants to make sure other customers of Maynard find that same peace. Eyewitness News has received half a dozen more customers who report having problems with his company.
Now the state is getting involved and making sure everyone who put down a deposit gets a headstone like Damiras Rivas' son.
"It was a long time coming, first of all it never should have happened this way," Sergio Rivas said. "But, he definitely deserves to be memorialized the right way."
Tri-County Memorials is now working with those other customers as well. The company has bought out Maynard's business and are actually planning to open up in his former location at the start of the new year.
Copyright 2012 WFSB (Meredith Corporation). All rights reserved.