AZ man bikes all 50 states to aid stricken children
Posted:
Updated: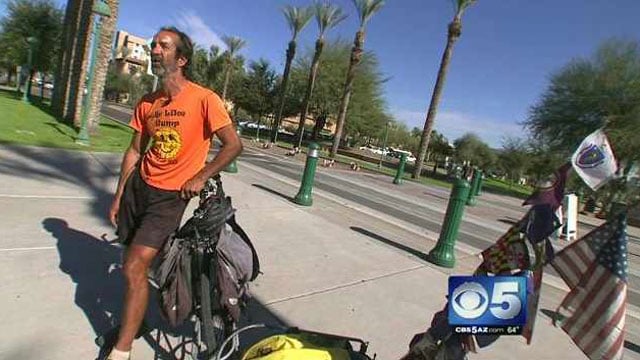 (Source: CBS 5 News) Romano Scatturro has ridden his bicycle to 49 of 50 U.S. state capitols to raise money to help two stricken individuals in Cornville.
PHOENIX (CBS5) -
How far would you go? How hard would you push yourself to help someone you hardly know?
It would be hard to imagine a more arduous journey than that of Arizonan Romano Scaturro, who vowed to bicycle through every state capital in the United States.
CBS 5 News caught up with Scaturro just as he was pedaling the last few yards of the drive to the Capitol building in Phoenix.
"We're on our way. Capital number 49 out of 50. We're here," Scaturro said.
Scaturro returned to a hero's welcome just in time for Thanksgiving after cycling for seven months through the continental United States, including Alaska.
"I've dreamed about this moment for a long time," Scaturro said as he rolled up to the sounds of cheering school children in Phoenix.
Scaturro said he has always believed in stretching his physical and mental limits, but this is by far the most grueling challenge he's ever accepted.
"The toughest part is just getting over being alone day after day," Scaturro said.
In 220 nights, he slept in a bed only three times. Most of the time, he camped in a tent in whatever space he could find along the roadway.
"I'd call him up, 'Where you at?'" said Daniel Nash, a friend of Scaturro. "He'd say, 'I'm in a storm drain.'"
Scaturro admitted he would have quit this journey a long time ago if it weren't for the two young people he was pedaling for.
Dakota Nash, 18, is battling leukemia; 14-year-old Kelsea Freeman has cystic fibrosis.
Both are from Scaturro's hometown of Cornville southwest of Sedona, and he set out on the road to raise money and hopefully ease the financial burden on their families.
"They kept me going, literally," Scaturro said of his young benefactors.
Dakota and Kelsea's parents were at the Phoenix capitol for the homecoming, and were finally able to express to Scaturro how his struggle helped them fight through some of their darkest days.
"As any parent can testify, when their kid is sick, you get hit with these waves of emotion that just knock you down. And every time, he brought me back," said Daniel Nash, Dakota's Father.
"There's times where yesterday, Kelsea was in surgery and I'm falling apart. And that's the time, when they are pushing that stuff into her veins and she says, 'Bye Mom.' That man, I just think of that man and it makes me stronger," said Regina Freeman, Kelsea's Mother.
Scaturro has been collecting all manner of donations from people he met along the way and detailing his adventures in a fantastic blog. But his friends thought his accomplishments deserved even more attention.
"His courage and ambition has touched many lives in our small community and his dream of helping others has been contagious to all of us," said Catherine Griefenberg, a friend of Scaturro who contacted CBS 5 to nominate him for Pay It Forward.
As he was handed $500, the moment was a bit overwhelming for the man who spent the last seven months mostly by himself.
And even though his bike is now adorned with 49 state flags, his pack full of commendations from governors and politicians, there is only one reason Scaturro made it this far and one reason why he will keep going.
"To me, the most important think in life is servicing others or helping people who need help. At some point you've got to help others. And that's how I dedicate my life, helping others," said Scaturro.
After a six-month break, he will climb into an oceanic row boat in Monterey, CA, and row, alone, to Hawaii.
He flew to Juneau, AK, and kayaked to Skaglia, AK, and bicycled from there back to the contiguous states.
But he and Dakota and Kelsea could still use the help. Donations can be made Family Ride Across America to Nurture Kids.
Copyright 2012 CBS 5 (Meredith Corporation). All rights reserved.