UPDATE
PD: Ex-Phoenix cop arrested in road rage incident
Posted:
Updated: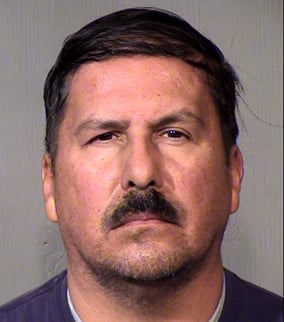 (Source: Maricopa County Sheriff's Office) Frank Marin
SURPRISE, AZ (CBS5) -
A police career that spanned three decades came to an abrupt end for a valley man arrested for a road rage incident. Frank Marin spent the last year-and-a-half as a Phoenix police reserve officer after having retired from a 28 year career on the department.
Marin was arrested Tuesday morning on suspicion of pointing a semi-automatic handgun at a motorist following an apparent road rage incident in Surprise, police said.
Marin was booked into jail on charges of endangerment, misconduct involving a weapon and threats and intimidation. He later posted bond.
The motorist, James Bruggeman, said he was traveling north on Cotton Lane from Waddell with his wife and two children inside his vehicle. Bruggeman said as he passed a dump truck and two cars ahead of him, Marin, who was driving a pickup truck, also tried to pass but did not notice Bruggeman, officers said.
Bruggeman said he honked and applied his brakes to avoid colliding with the pickup, according to a police report.
Both vehicles ended up at the intersection of Cotton Lane and Greenway Road. Bruggeman said when he looked up at the pickup, Marin was pointing a black Block 27 handgun at him. Bruggeman told police he yelled, "Go ahead, shoot me," at which point Marin lowered the gun, put his vehicle in reverse and collided with a vehicle stopped behind him, police said.
Bruggeman continued on his way to drop off his daughter at school.
The motorist whom Marin backed into called 911 and told dispatchers he was stopped at a Fry's parking lot near the accident scene and that Marin was there with him.
At first, police said Marin denied he had a handgun, police said. Upon further questioning, he admitted to having the weapon in his vehicle. An officer found it under the driver's floor mat with a fully loaded magazine and a round in the chamber.
By this time, Bruggeman had returned to the scene.
Contacted at his home in the west valley, Bruggeman said he could not believe what was happening when he saw Marin point the gun at him. Bruggeman said he was afraid for his family. He also said he was shocked to learn that kind of behavior came from a career law officer.
Marin, resigned as a reservist the day he was arrested. The charges against him are being submitted to the Maricopa County Attorney's Office for review.
Copyright 2012 CBS 5 (Meredith Corporation). All rights reserved.