Child luring has Phoenix school warning parents
Posted:
Updated: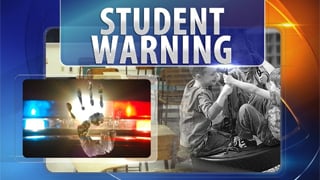 © CBS 5
PHOENIX (CBS5) -
A Phoenix school is alerting parents about an apparent case of attempted child luring.
The principal at Madison Meadows Middle School at 225 W. Ocotillo Rd. is telling parents in a letter to remind their children to be more aware of their surroundings.
Todd Stevens said two students at his school reported being approached Monday morning by a vehicle at a bus stop at 11th Way and Glenn Drive and offered a ride. The students declined and arrived to class safely.
The only description available alludes to a younger man driving an older model, dark passenger car. The students said the man spoke in a disguised voice. He had short brown hair and an unshaven face.
People with any information about the incident should call police at 602-262-6151 and notify the school's front office.
Phoenix police recommends that students with cell phones use them to dial 911 if they find themselves in a similar situation.
Copyright 2012 CBS 5 (Meredith Corporation). All rights reserved.