Vehicle crashes into West Hartford home
Posted:
Updated: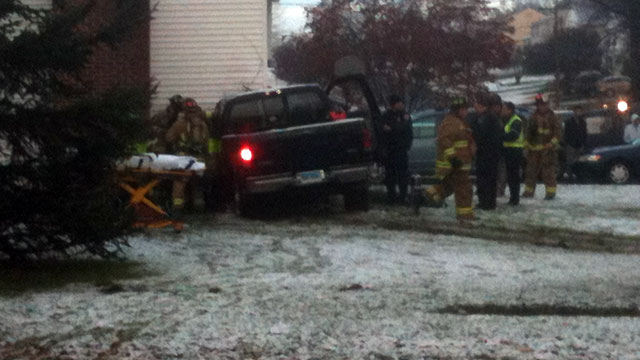 WEST HARTFORD, CT (WFSB) -
A family has to stay with relatives after a truck crashed into their West Hartford home early Wednesday morning.
The incident occurred when the driver of a Ford F-250 truck lost control of the vehicle and crashed into a home on the corner of Fuller and Mohegan drives just before 7 a.m. The truck hopped the curb and its front end dug into the basement of the home, police said.
"Just like thunder, like thunder shaking the house," said Yves Nham, who lives at the West Hartford home. "I was like, 'wow, what happened,' waking up instantly."

The crash woke up Nham and his family of nine people, which includes three children.
"I see the car, get down here, see the guy, ask him, 'are you alive?' He says, 'OK, I'll call 911,'" Nham said. "That guy - he was lucky."
Nham said the truck damaged a water pipe inside the home and flooded his basement with at least 8 inches of water.
Metropolitan District Commission officials went to the home and shut the water off, and electricity has been shut off as well.
The crash also created a huge hole in the building, which had to be covered up.
Police told Eyewitness News that the driver was heading down Mohegan Drive when he lost control. He was trapped briefly inside the truck, however, firefighters worked quickly to free him before he was taken to a local hospital for evaluation.
The driver, whose name was not released, is expected to survive the crash.

As for the crash, investigators are looking to see if road conditions like black ice this morning were a factor, or if the driver just simply overcorrected.
The building inspector is at the home, and it's currently unlivable. Nham told Eyewitness News they have an aunt that lives in the neighborhood, so the family does have a place to stay.
Copyright 2012 WFSB (Meredith Corporation). All rights reserved.