Baby Jesus missing from Torrington Christmas Village display
Posted:
Updated: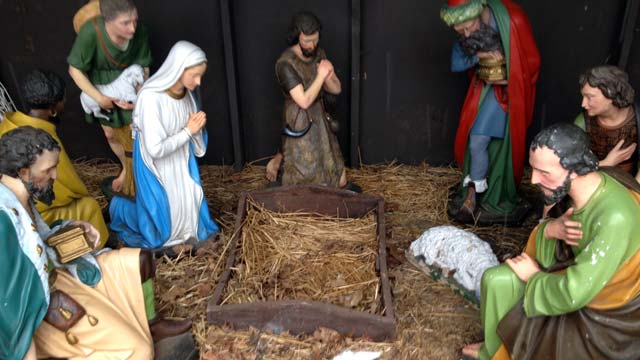 TORRINGTON, CT (WFSB) -
A baby Jesus figure that was inside the Christmas Village in Torrington has been reported missing, according to city officials.
Jesus was found to be missing Monday morning as workers at the Torrington Parks and Recreation Department were getting ready to prepare for the display's opening set for Dec. 9, city officials said.
The Christmas Village is entering its 65th year, and the workers who spent weeks putting it together say discovering this baby Jesus statue missing was disappointing.
"It tears me up, we put our heart into making this for the kids," said Angelo Alduini of Christmas Village. "It's all about the kids. Its just a shame."
The baby Jesus was stolen while the display was in storage, so authorities are not exactly sure when this theft happened.
"There was some signs that the area had been entered during the off season, but we really don't have a timeline or anything to go off of," said Torrington Parks and Rec. Supervisor Brett Simmons.
When the Christmas Village is over, town crews will board up this stable and leave the scene set up inside.
"I think that's really sad and it's terrible that somebody would do that," said Bob Burns of Goshen. "It's unfortunate."
Town officials said they don't want this to affect opening day and they're already looking for a replacement statue. However, neighbors here say they hope it won't be needed.
"Stealing is stealing, and it's not forgivable," Burns said. "I hope they bring it back. Please?"
Simmons said the city is looking for donations to try to get a new statue, which could cost up to a few hundred dollars.

They got one call from someone with a possible replacement and plan to check that out Wednesday.
Anyone with any information is asked to call the Torrington Police Department at 860-489-2007.
Copyright 2012 WFSB (Meredith Corporation). All rights reserved.