Remains found near Arizona spot where CO man vanished
Posted:
Updated: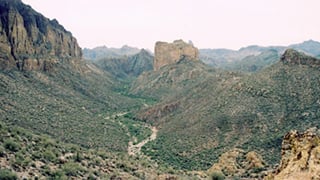 Courtesy of americansouthwest.net
APACHE JUNCTION, AZ (CBS5/AP) -
Human remains have been found in a mountain area east of Phoenix near where a Colorado man disappeared in 2009.
Hikers found remains Saturday in a rugged area about 60 miles east of Phoenix in the Superstition Mountains, Maricopa County sheriff's spokesman Brandon Jones said.
Sheriff's search teams were working to recover the remains Sunday, and they'll be sent to the county medical examiner for identification.
Robert Cooper of the private Superstition Search and Rescue group said his members made the discovery.
The area is a half-mile from where 35-year-old Denver resident Jesse Capen's Jeep and other belongings were discovered in December 2009.
Capen's mother told the Denver Post in early 2010 he was obsessed with finding the Lost Dutchman gold mine.
The mine was made famous by Jacob Waltz, known as "the Dutchman," who took the secret of his mine to the grave in 1891.
Treasure hunters still scour the mountains searching for the Lost Dutchman Mine, but they now come elbow-to-elbow with campers, hikers, horseback riders and conservationists in what has officially become the Superstition Wilderness Area.
Copyright 2012 CBS 5 (Meredith Corporation). All rights reserved. The Associated Press contributed to this report.