ONLY ON CBS 5
Home invasion robbers zip tie elderly Mesa couple
Posted:
Updated: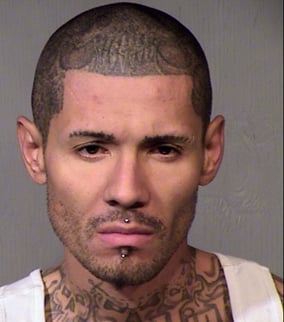 Jesus Andrade (Source: Maricopa County Sheriff's Office)
MESA, AZ (CBS5) -
An elderly Mesa couple was bound with zip ties and duct tape in a home invasion robbery on Tuesday, the Maricopa County Sheriff's Office said.
An alert neighbor jotted down the license plate number of the fleeing vehicle which led to the arrest of two suspects in connection with the crime.
One of the men was identified as Jesus Andrade, 30. The other suspect was identified as Joshua Romero, 26, of Mesa. Both had been released from prison earlier this year. Law enforcement authorities traced them to a home in Apache Junction where they were apprehended Tuesday night.
Tracy Gapp, 81, and Aneta Gapp, 78, had been watching TV inside their Mesa home at about 10:40 a.m. Tuesday when Romero walked into their living room holding a gun, a court document stated. The Gapps said Romero had red paint or lipstick all over his face.
"I knew it was no joke. I thought it was blood on his face. It was so red you know," said Tracy Gapp.

According to court paperwork, Romero demanded their cell phone and walked the pair at gunpoint into the bedroom. Romero then made numerous calls on their cell phone and told the person on the phone to come get him, court documents said.
Romero then ordered the couple to lay down in the living room. At that point, a second man armed with a gun, later identified as Andrade, busted into the house carrying large zip ties. He told the couple not to look at him, according to the probable cause statement.
He threw the zip ties to Romero, who bound the couple's hands and feet, court documents stated. Andrade covered the couple's mouths with duct tape, court documents said.
"He tied me up, and I was lying flat on the floor," said Aneta Gapp.

"When you're tied up, you're at their mercy. Believe me," explained Tracy Gapp.
Romero took one of Tracy Gapp's blue plaid western-style shirts and their cell phone, officials said. A wallet containing $100 in cash was also missing.
"They grabbed what they could and ran out of the door," said MCSO Deputy Joaquin Enriquez.
Police were able to trace the getaway car's license plate number, obtained by the neighbor, to Romero.
Enriquez said the suspects had been spotted in the area several days before the home invasion.
The Gapps' home was processed by an ID technician with the Maricopa County Sheriff's Office. Law enforcement personnel later discovered someone had moved multiple items in the couple's bathroom, including several lipsticks that had been left open on the counter.
Authorities were also able to trace the phone number that Romero had called using the Gapps' cell phone. It led them to the Apache Junction home where the two were staying.
Both men were booked into jail, each facing charges of kidnapping, first-degree burglary and armed robbery with a deadly weapon.
Copyright 2012 CBS 5 (Meredith Corporation). All rights reserved.