Woman could lose job over disrespectful picture taken at Arlington National Cemetery
Posted:
Updated: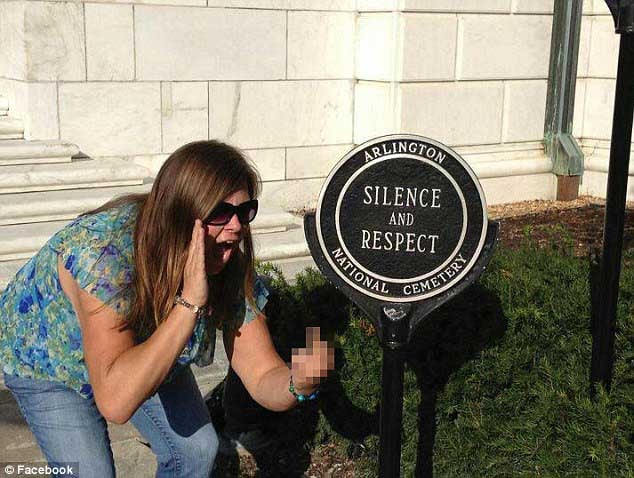 BOSTON (KCTV/AP) -
Flipping the bird and posting the picture of it on Facebook could cost two women their jobs at an assisted living center.

That's because the two women didn't give the finger just anywhere. The location was the Tomb of the Unknown Soldier at Arlington National Cemetery.

Lindsey Stone and her co-worker were on a trip last month sponsored by their employer for residents of the Cape Cod home for the disabled. Stone planted herself in front of a sign reading, "Arlington National Cemetery" "Silence and Respect." She pantomimed a yell and made the obscene gesture, and her friend captured the moment forever in a photo.
Stone thought her Facebook post would amuse her friends. She was apparently taken back when she received outrage from her Facebook friends.

"Whoa whoa whoa ... wait," Stone wrote on Oct. 20, according to the screen shot captured before her Facebook page was scrubbed."This is just us, being the douchebags that we are, challenging authority in general ... OBVIOUSLY we meant NO disrespect to people that serve or have served our country."
She was certainly shocked when a Facebook campaign began calling on her employer to fire her for disrespecting American's veterans.

Her employer, LIFE, Inc., said they are investigating the incident involving Stone and a co-worker who took the photo. The chief financial officer said the nonprofit is appalled.
Both Stone and Jamie Schuh have been placed on unpaid leave.
Stone's father told reporters he too was appalled and his 30-year-old daughter is very sorry to those she offended.
"She's totally apologetic. She apologizes to anybody she's offended," her father, Peter Stone, told me last night.
"She was reacting, I guess, to the sign instead of the place and didn't intend it to be what it turned out to be," Peter Stone told the Boston Herald. "She had a lack of judgment. I think they were just being funny, which is sad. It's not how she or the family feels by any means."
The two women released a statement to the Boston newspaper.

"We sincerely apologize for all the pain we have caused by posting the picture we took in Washington DC on Facebook. While posted on a public forum, the picture was intended only for our own amusement. We never meant any disrespect to any of the people nationwide who have served this country and defended our freedom so valiantly. It was meant merely as a visual pun, intending to depict the exact opposite of what the sign said, and had absolutely nothing to do with the location it was taken or the people represented there. We never meant to cause any harm or disrespect to anyone, particularly our men and women in uniform. We realize it was in incredibly poor taste, and are deeply sorry for the offense we have caused.
"We also sincerely apologize to LIFE, Inc. It is an amazing organization that provides invaluable services to adults with learning and developmental disabilities. We are beyond remorseful that our actions have caused them such undue public scrutiny. The disrespect implied by our picture has nothing at all to do with LIFE's mission statement or values. We regret having caused any suffering to the staff members, residents, families and friends. Again, we very sincerely apologize to everyone who took offense to the photo. We realize that it was an ignorant and distasteful thing for us to do, but we truly meant no harm. We are deeply sorry."
LIFE issued its own statement:
"On Nov. 19 at approximately 6 p.m., we became aware that one of our employees had posted an offensive, inappropriate photograph on her personal Facebook page. The photo was taken at a national historic site in October by a fellow employee during a trip to Washington, D.C. attended by 40 residents and eight staff. The photo has since been removed from Facebook, and both employees have been placed on unpaid leave pending the results of an internal investigation.
"This photograph in no way reflects the opinions or values of the LIFE organization, which holds our nation's veterans in the highest regard. We are proud to have veterans serving on our staff and board of trustees, and we value their service. The men and women who have selflessly fought and sacrificed their lives to protect the rights and lives of Americans deserve our utmost respect and gratitude. We are acutely aware that this photo has done a disservice to veterans and we are deeply saddened that it was taken and shared in a public medium."
Take our poll and tell us your thoughts on KCTV5's Facebook page. Click here.

Copyright 2012 KCTV (Meredith Corp.) and Associated Press. All rights reserved.
Should Lindsey Stone and her co-worker lose their jobs for stupidly taking a disrespectful picture at Arlington National Cemetery?