Grandfather creates way to sled without snow
Posted:
Updated: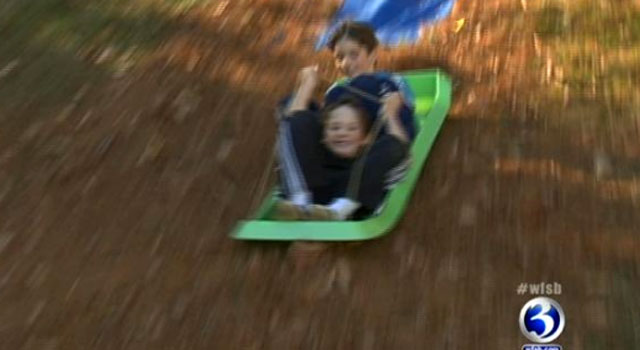 LITCHFIELD, CT (WFSB) -
One man in the Litchfield Hills said he's come up with a way to sled without the white stuff and covered a hill in plastic fencing.
"Last year, there was no snow. We had the big snow in October," said the man, who only wanted to be identified as Ray. "And the kids are always playing here. Grandpa loves to see the kids play."
So Ray took some old plastic fencing and anchored it to the hill beside his house. Then, he adds some silicone spray to the plastic sleds. And it's off to the races.
"If there's no snow this winter, go get a $50 fence and your kids will have a blast," he told Eyewitness News.

And the kids do indeed have a blast. There are lights in the trees for nighttime sledding and when there is snow, the run seems to go on forever with parents at the street to make sure there are no cars coming as they fly across.
"But they go right across over the bank," Ray said. "They get air. They love air. They get air and right into the neighbor's yard."
The whole setup doesn't cost but about $50 and it can be set up in no time with cleats to anchor the fencing and maybe a pile of leaves to cushion the landing. The setup can be used all year long.
"It's great it's great. There's nothing better than seeing kids laughing and having fun," Ray said "Isn't it true. That's what it's all about."
Copyright 2012 WFSB. All rights reserved.