UPDATE
DPS: Argument leads to string of I-10 crashes
Posted:
Updated: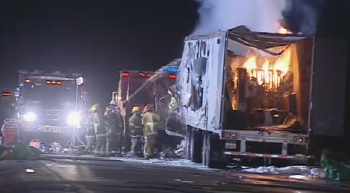 Two semitrailer trucks collided in the traffic backup caused by the previous crash.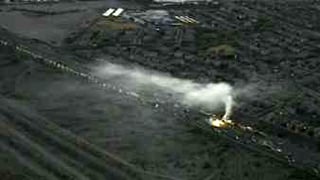 View of the semi accident scene from our news helicopter.
PHOENIX (CBS5) -
A driver arguing with relatives crashed on Interstate 10 at Watson Road late Tuesday night and a pair of semitrucks collided in the backup, the Arizona Department of Public Safety said.
One of the trucks caught fire, killing the driver, whose name has not yet been released.
The string of accidents began just after 11 p.m.
A 35-year-old man was driving in a Honda Accord with his wife, mother-in-law and daughter eastbound near Watson Road when an argument broke out, officers said. The driver pulled over to the side of the road and the mother-in-law and daughter were told to get out of the car, DPS said. The driver then sped off at speeds of 100 mph with his wife still inside the vehicle.
The driver eventually hit another vehicle which was traveling eastbound, causing it to roll over. Five children inside the vehicle were ejected and suffered significant injuries, DPS said. At least two of those children remain at Phoenix Children's Hospital in serious condition but are expected to survive.
The driver of the Honda Accord suffered serious injuries and has been admitted into the hospital. Upon release, he will be booked into jail on multiple criminal charges, including aggravated assault. The name of the suspect will not be released until he is either booked into jail or charges are filed with the Maricopa County Attorney's Office.
About 45 minutes later, a fatal crash occurred between three semitrailers and four passenger cars, DPS said.
A semitrailer carrying furniture crashed into another semi that was stopped in the backup as a result of the previous crash. The collision between the two semis caused them to be pushed into four other cars and an additional semitrailer, officers said. The semi carrying furniture caught fire immediately after the initial impact, killing the driver.
As a result of both of these accidents, I-10 was closed at Miller Road from 11:45 p.m. Tuesday to 11:45 a.m. Wednesday. Traffic was re-routed onto State Route 85 and through the town of Buckeye. Traffic re-entered I-10 at Jack Rabbit Trail.
Stay with cbs5az.com for updates on this developing story.
Copyright 2012 CBS 5 (Meredith Corporation). All rights reserved.