NTSB continues to investigate deadly plane crash
Posted:
Updated: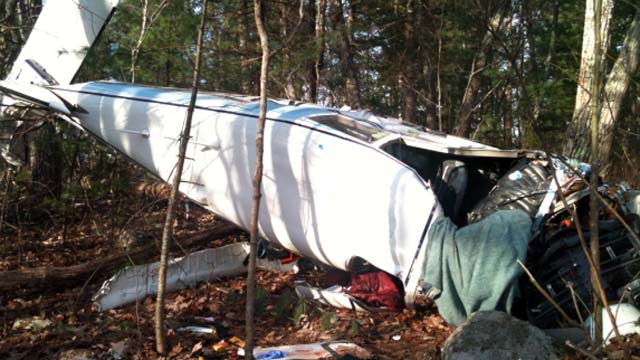 SIMSBURY, CT (WFSB) -
Investigators will be back out on the Simsbury/Canton line Wednesday morning as they continue to figure out what caused a plane to crash there late Monday night.
The crash killed Donald and Josephine Deroucher, a Florida couple heading to Connecticut to attend a funeral for Donald's father.
"I got a call from my sister telling me that Donald and Josephine's plane went down," said Donald's brother, Bob.
He said he couldn't believe the news that his brother and sister-in-law, who were formerly of Canton, were dead after their plane crashed in the woods on Onion Mountain.
Donald Deroucher, 73, was at the controls of his Piper PA-28 Cherokee.
Deep in the woods, the Piper PA-28 Cherokee rests on its roof, while other pieces are scattered across Onion Mountain. Some parts are still lodged in the tree tops from when the plane came crashing through. The plane's tail sticks up into the air while the propeller is buried into the ground.
Now the family has to deal with more grief just before Thanksgiving.
"It's unbelievable," Bob Deroucher said. "He was a good pilot and had flown that way many times. I'm in disbelief."
The plane's location, about a half-mile into the woods, is making it tough for investigators to get to the scene. As for what caused the crash, investigators said it's still too early to tell.
According to officials from the FAA, the small plane was being tracked by Bradley International Airport air traffic control and dropped off the radar before reaching the airport in Simsbury.
Investigators with the National Transportation Safety Board are continuing to investigate. Officials are looking for anything that will clue them into why the plane went down, like flight data or info from the plane's GPS.
Investigators with the NTSB said every accident is different, so it's hard to speculate on just what went wrong, adding in some cases it could take up to a year before they can determine what caused the crash.
Copyright 2012 WFSB (Meredith Corporation). All rights reserved.