Glendale woman finds JFK portrait worth thousands behind old frame
Posted:
Updated: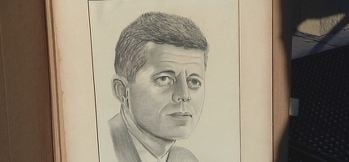 GLENDALE, AZ (CBS5) -
We've all had that one-of-a-kind piece that could either be trash or treasure. One Glendale woman found a portrait of a past president and we went with her to see if she stumbled on a goldmine.
"We just picked it up and brought it home and never really went through it," said Pam Dwyer.
That seems to be how these stories always begin. Dwyer and her husband picked up a horse picture at a yard sale in Sun City, but her husband had a hunch that's not all they were getting.
"He says 'I just have this gut feeling that there's something behind that,'" she said.
And, sure enough, when they removed the picture from the frame, they found this portrait of former president John F. Kennedy from 1961.
"I was just in awe of the detail, and the likeness, and that it was an original," Dwyer said.
She did some research on the artist, Carmelo Soraci, and found he was an infamous forger who served time. But while incarcerated, he unleashed a hidden talent.
"He was best known for the stained glass artwork he created when he was in prison, actually," Dwyer said.
"There are those surprise treasures those things people can find, and then of course there's the hit and miss," said art appraiser Lisa Barnes, who works in Anthem.
"This particular artist doesn't have a history of sales," Barnes said.
Because of that, she said, it's tough give an exact appraisal.
"Someone like the Smithsonian would buy this because of the merit of how he captured and he depicted JFK," Barnes said
But the quality may speak for itself; Barnes appraised the portrait at $2,500 to $5,000.
"I'm happy with how much she was impressed by it," Dwyer said.
As for Dwyer, she said even though it only cost them $5, she'll likely part with than portrait worth more than just a thousand words.
"I'll probably sell it, you know we've been on hard times," she said.
Copyright 2012 CBS 5 (Meredith Corporation). All rights reserved.