UPDATE
Early birds camp out for Thanksgiving Night shopping
Posted:
Updated: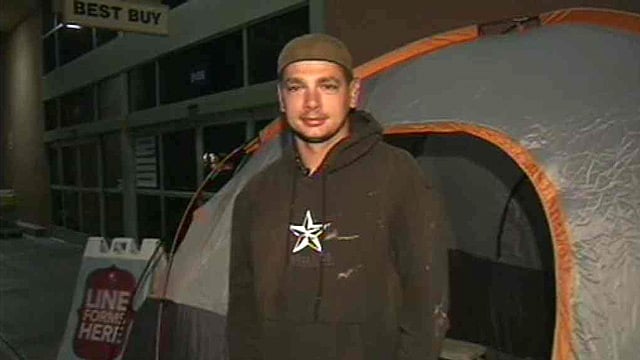 (Source: Kraig Stern / CBS 5 News) Mike Bernardi was the first in line at a Goodyear Best Buy, pitching a tent near the doors for Black Friday shopping.
PHOENIX (CBS5) -
As Anthem lit the lights to usher in the annual holiday shopping season, campers in Phoenix wasted no time staking out their spot to be first in line when some retailers welcome shoppers Thanksgiving Night.
With elbows sharpened and smart phones in hand, shoppers are getting primed for the start of the Christmas shopping season - the most calculated day of the retail year. [Visit our special section: Holiday Helper]
Mike Bernardi has pitched a tent over the weekend at a Best Buy store near Litchfield and McDowell roads, just of Interstate 10 in Goodyear.
He graciously agreed to talk with the CBS 5 Start Smart Morning Show crew before 6 a.m. Monday.
Bernardi, who was the only person in line at the store, said he was hoping to land a 40-inch high-definition television for $185, a laptop for his father, and an X-box for his girlfriend's children.
"I do this a lot for fun," he said about spending nearly a week waiting for the sales. He said he saves his money for one big shopping event each year.
But he's also spreading some holiday cheer.
Bernardi said he's met 10 to 15 homeless people in the short time he's been in line, and on Thursday he will cook them Thanksgiving dinner, including a deep-fried turkey and mashed potatoes. "It's just a lot of fun (spending time) with the people you meet," he said.
He has outfitted his tent with a cooler containing milk, bacon and eggs, camp chairs for lounging, and even a television for entertainment. He's said he's waiting for an air mattress to arrive today to make sleeping a little more comfortable.
Friends have kept him company while in line over the weekend, he said, and he expects they'll continue to show as the week goes by and that the line of customers will begin to increase by Tuesday.
The only inconvenience is that he might have to run to his home to shower, but he has friends to relieve him. Speaking of relieving, Bernardi said Best Buy has been very accommodating and allows him use of their restrooms inside.
The good news for retailers - an early Thanksgiving means the season is longer with 33 shopping days.
But the economy is still sluggish and what's going on in Washington has rattled consumers.
"Retailers are very concerned about the fiscal cliff situation, National Retail Federation Vice President Ellen Davis said. "In a recent survey, 72 percent of consumers say they were changing their shopping pattern as a result of the uncertainty of the situation."
Also dampening the forecast is Superstorm Sandy. By one estimate, nearly 5 million households in its path will have to curb spending this year to counter. The retailers are going all in, already offering discounts.
Like last year, some stores will start opening on Thanksgiving at midnight, with Walmart, Target, Sears and Toys R Us opening even earlier in a fierce competition to get the very first shoppers.
At the Outlets at Anthem, the annual tree lighting ceremony went on without a hitch Saturday night. American Idol Winner Phillip Phillips and Roshon Fegan performed.
At 7 p.m., Phoenix Councilwoman Thelda Williams and Santa Claus lit he Christmas tree as artificial snow fell. The lighting was followed by a performance from Phoenix-based Angelique White Band.
Copyright 2012 CBS 5 (Meredith Corporation). All rights reserved.