Pay It Forward recipient adopts foster child
Posted:
Updated: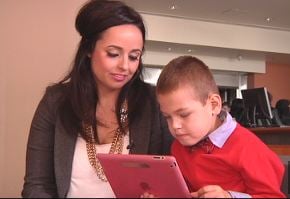 PHOENIX (CBS5) -
Hundreds of kids were adopted Saturday as part of National Adoption Day in Phoenix, including one family CBS 5 News introduced to you a year ago.
The Maher family is happy to have now, Ethan Maher, 7, as a permanent member.
"I've been waiting for this day," said his adopted mother, Kaitlin Maher, 24.
For Kaitlin Maher and Ethan, it's been a long journey that came down to an anxious wait in a Phoenix courthouse hallway.
At 10:30 a.m. Saturday morning at the Durango Juvenile Court Center, Kaitlin Maher waited for the official ceremony to adopt Ethan.
"I've been almost crying all day," said Kaitlin Maher.
The wait to make them family forever was almost over.
"I'm just nervous," she said while she waited.
CBS 5 News first introduced you to the pair last September as one of the CBS 5 News Pay It Forward recipients.
Ethan was one of Kaitlin Maher's students at Highland Park Elementary School in Gilbert, where she teaches severely handicapped children.
Ethan is also handicapped and requires a great deal of care. One day his biological mother said she just couldn't do it anymore. So Kaitlin Maher became his foster parent.
"We connected on such a different level, him and I, that I couldn't have passed up the chance to have him," she said.
In her early 20s and still living at home, she started the process to adopt. Saturday morning, nearly one year later, that day finally came. Flanked by an entourage of friends and family, Kaitlin Maher and Ethan's wait was over.
"Congratulations, the adoption is final," said the judge inside a brief adoption ceremony.
"Thank you," said Kaitlin Maher as she started to cry.
Those in the room started to clap as Kaitlin Maher said, "We did it!"
The two are now family, officially.
"It's Ethan. I don't think I could do it for anyone else. It's just, he's so perfect," said Kaitlin Maher.
She said her school has bought two tickets for them to go to Disney Land and she hopes to take Ethan next year.
Copyright 2012 CBS 5 (Meredith Corporation). All rights reserved.