Phoenix alligator may be 1st in the world to get prosthetic tail
Posted:
Updated: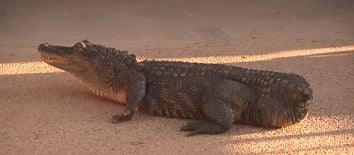 PHOENIX (CBS5) -
The Phoenix Herpetological Society is full of reptiles, but one really stands out. He's a 9-year-old alligator named Mr. Stubs.
"In the world of alligators, they are cannibalistic so a larger alligator tried to make a meal out of Mr. Stubs," said curator Daniel Marchand.
The meaning behind his moniker is pretty clear, the poor guy's tail turned into that bigger gator's snack. He's lived without that important limb for years, which means Mr. Stubs can't swim.
"His body just spins around in the water so he just churns up a lot of water, doesn't go anywhere forward," Marchand said.
"If there are other alligators with him, of course without a tail, he'd be the last one to the dinner table," he said.
Since gators store food in their tails during the winter time, Mr. Stubs is out of luck there too.
"We have to be careful that he doesn't basically starve to death in a sense because that tail only supplies obviously very little food," Marchand said.
So after years of just dealing with the hand their were dealt, workers found a little cinematic inspiration. The movie Dolphin Tale is based on the true story of a dolphin that got a prosthetic tail. It seemed logical Mr. Stubs would benefit from the same technology.
"As far as we know, as of today there are no reptiles in the world that have ever received a prosthetic limb of any kind," Marchand said.
There's a first time for everything, so doctors have been measuring Mr. Stubs and figuring out how to make this work for about a year.
"And through X-rays, we found out that there is enough backbone there," Marchand said.
Now it's a matter of building the flexible, water friendly appendage to propel Mr. Stubs to the front of the dinner line. Mr. Stubs is expected to live for another 60 years or so, and he'll get much bigger, so chances are he'll need more than one prosthetic tail in his lifetime.
It's all paid for by donations, so if you'd like to help Mr. Stubs or any of the other reptiles at the Phoenix Herpetological Society just click here.
Copyright 2012 CBS 5 (Meredith Corporation). All rights reserved.