New England Carousel Museum helps Sandy victims
Posted:
Updated: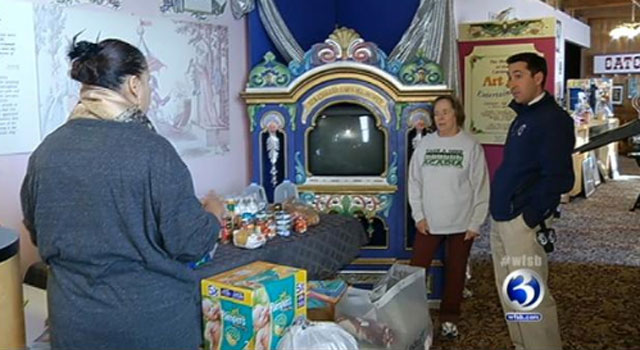 BRISTOL, CT (WFSB) -
Employees and visitors of the New England Carousel Museum are helping victims of Hurricane Sandy by holding a donation drive.
The museum will be collecting canned goods, clothing and items for those affected by the storm along the Connecticut shoreline. And items will be delivered to a church in Syosett, Long Island.
"Anything that anybody can do, they're doing it," said Loretta Robinson of New England Carousel Museum. "Jackets, clothes, diapers, it's great."
The staff said they just wanted to pay it forward so to speak, after so many people did so much to help Bristol after Tropical Storm Irene, where the New England Carousel Museum is located. The storm brought extensive flooding across the city.
"I think everybody feels good helping people in need because last year we got hit by the storm and everybody helped us," said Elaine Lipton of New England Carousel Museum. "So now we're lending a helping hand."
The drive was the idea of an employee whose family lives on Long Island. She was actually going to drive the supplies down herself to the Connecticut shore and Long Island but became sick, so now the museum is looking for a way to get all this stuff down to the folks who need it the most.
"Our poor young lady whose baby this is, is ill right now, so we're looking for somebody to transport it to Long Island," said Lipton, who was holding the unidentified woman's child. "So if anybody can help, we'd love it."
With two more major events this weekend, the employees are hoping to gather even more supplies for the victims.

"We're a museum in Bristol," Lipton said. "We're part of family, doing things for family, connecting memories, doing things for people."
Copyright 2012 WFSB (Meredith Corporation). All rights reserved.