City, police department release statements on Meriden cop's indictment
Posted:
Updated:
By Joseph Wenzel IV, News Editor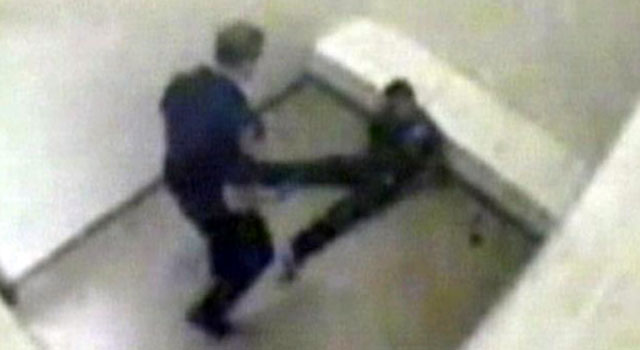 MERIDEN, CT (WFSB) -
Officials in Meriden and the police department released statements after a city's police officer was indicted by federal authorities after being accused of making false and misleading statements after an investigation into allegations he pushed a handcuffed prisoner so hard he fell over, slammed his head against a bench and was injured.
In a complaint, Meriden Officer Evan Cossette, the son of police Chief Jeffry Cossette, was seen on surveillance video pushing a handcuffed man, Pedro Temich, in a holding cell after he was picked up for intoxication in Meriden in 2010.
In the video, Temich hits his head on a concrete bench and Evan Cossette is seen moving him, but never called for help. The action left Temich with a deep cut on his head.
According to arrest papers, Cossette said Temich "invaded my personal space and I became fearful that he would again attempt to engage me in a physical altercation and possibly head butt me."
The U.S. Attorney's Office claimed that Cossette made a false statement and used unreasonable force.
"Obviously, we are concerned and disappointed that one of our officer's conduct has resulted in a federal indictment," the Meriden Police Department said in a statement. "But we would like to remind the public that the officer is entitled to a presumption of innocence and a defense in which facts that matter will be presented."
After the video was seen, two other police officers, Brian Sullivan and Donald Huston, complained because they felt he received special treatment after being investigated for excessive force because he is the chief's son.
On Wednesday, the city said in its own statement that an independent investigation by an expert in internal affairs showed that Cossette did not receive "favorable treatment" and that there were "significant factual errors in the allegations" made by Sullivan and Huston.
"The independent investigation served exactly the purpose intended," the city's statement read.
The complaint said Evan Cossette was given a letter of reprimand and ordered to take four hours of training on the proper use of force. The complaint also said other officers would have been punished more harshly.
The city said it "concluded that the discipline Cossette received for the Temich incident was reasonable under the circumstances."
Jeffry Cossette previously said the complaint was made by "disgruntled officers."
The police department also stated it is focused on maintaining "the public's trust and confidence" and asked for their patience as the process by the judicial system takes place.
"Every day our officers put it on the line to keep our community safe," the Meriden Police Department. "We have built strong relationships in our community and together we have enhanced the quality of life in our neighborhoods. We are confident that we will get through this difficult time together."
The complaint also references multiple allegations of police brutality by the chief's son, including one when Evan Cossette was working as a civilian with the department and he was on a ride along.
On Wednesday, the victim's attorney said she and her client had waited "a long time for this moment" and look forward to showing the video of Evan Cossette pushing the suspect to the jury.
"Those that abuse their power should be held accountable," said attorney Sally A. Roberts in a statement Wednesday. "They should not be able to flaunt their abuse of power with impunity."
According to the city's statement, there have been no complaints against Cossette following his administrative leave.
Copyright 2012 WFSB (Meredith Corporation). All rights reserved.