CAUGHT ON TAPE
Valley officer's scuffle with suspect leads to loss of job
Posted:
Updated: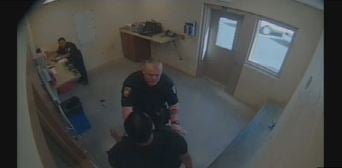 Caught on tape
PHOENIX (CBS5) -
Was a Valley police officer caught choking a suspect on tape?
In the video, you can see the suspect provoking the officer, then the officer gets in a fighting stance and finally, it appears he chokes the suspect. But his attorney said that officer did nothing wrong.
In the video, you see Salt River Pima-Maricopa Indian Community Officer Scott Berry and another officer dealing with a threatening suspect in August 2011.
In one part, Berry tells the suspect to have a seat, and he asks him if he will take his handcuffs off. Berry takes them off.
"Scott was dealing with a man who had been arrested after holding several family members at knifepoint (sic)," said Berry's attorney, Mike Storie. "This man had a history of fighting with peace officers, but part of the booking process required Scott to remove the man's handcuffs."
But then you see Berry in what looks like a fighting stance and then a confrontation ensues. The suspect appears to raise his hand and Berry lunges at the man, with his hands around his neck.
"After threatening the officer repeatedly the man refused to comply with verbal commands and Scott was forced to take a combative stance and eventually employ physical force," Storie said.
We asked Berry if he had anything to say about the confrontation that cost him his job last December.
"I don't have anything to say right now; we're going to deal with this with AZ Post," Berry said.
AZ Post, which grants, suspends and revokes peace officer certification, recently decided to look at the case. Berry's attorney said his client never choked the suspect since the man was able to talk throughout the encounter and will be fighting to keep his certification.
CBS 5 News asked the Salt River Police Department for comment. They have not replied.
Copyright 2012 CBS 5 (Meredith Corporation). All rights reserved.