Study: Hormone helps men remain faithful
Posted:
Updated: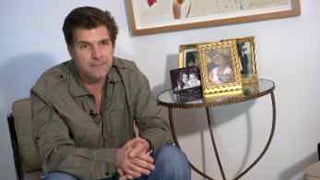 (Source: CBS 5 News) Frank LoVecchio is the co-medical director at Banner Health's Poison Drug and Information Center
PHOENIX (CBS5) -
A new study published Tuesday by the Journal of Neuroscience says the hormone Oxytocin may help make certain men more monogamous.
"Some people call this drug a cuddle drug," said Frank LoVecchio, the co-medical director at Banner Health's Poison Drug and Information Center.
Oxytocin is made naturally in the body, but the study shows when a supplemental form of it is inhaled, certain men who are already in monogamous relationships tend to steer clear of attractive women.
"(Researchers) did this interesting study where they gave a placebo; a nasal, sugar-spray versus Oxytocin intra-nasally, and then they had women walk in the room. Those who were in a monogamous relationship as defined prior (to the study) stood an average of 6 1/2 inches further away."

The study also uncovered Oxytocin promotes trust and bonding in men and some other positive reactions with women.

"After they got an injection of this drug, the women were less likely to be argumentative and the men were more likely to be calmer," explained LoVecchio

Oxytocin is often given as an injection to women during childbirth. LoVecchio said it is unlikely it will ever be made into a supplement for men.

"The big negative with this drug unfortunately is that you can never take it by mouth. There will probably never be a pill form because it's broken down by stomach acid pretty quickly. If you give it intra-nasally it only last a few minutes," he explained.

Rather LoVecchio said a study like this opens up discussion about other theories.

"We, as physicians (and) as scientists, realize that there is a theory here that somehow if you could get these (Oxytocin) levels up, perhaps it could change some behaviors. Men might say, 'Oh, I'll be at a party with many attractive women. I know I should stay away, and this will help me stay on average and extra 6 1/2 inches away from attractive women,'" said LoVecchio.
Copyright 2012 CBS 5 (Meredith Corporation). All rights reserved.