Black Friday deals have stores opening earlier than ever
Posted:
Updated: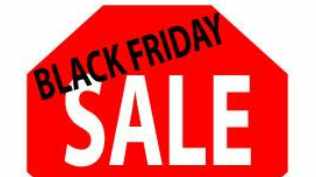 © CBS 5
PHOENIX (CBS5) -
"We're still calling it Black Friday," said Shane Hughes, the manager of a Target store in Phoenix.
No matter what you call it, everyone knows the biggest shopping day of the year is getting bigger.
Michelle Ahlmer from the Arizona Retailers Association acknowledges the name has become misleading.
"It certainly isn't just Friday anymore. It's turning into Black November," she joked.
Thanksgiving Day is a week and a half away, and Amazon got the retail game started early with Black Friday deals starting Tuesday. Other online retailers are following suit.
The long-standing tradition of getting up at the crack of dawn and getting in line with hundreds of shoppers waiting for stores to open is now changing. Turkey Day shoppers are going straight from the holiday dinner table to discounts.
"It's a very competitive market and we feel if there's an opportunity to serve the public and they are indicating that they are willing to shop early, then that's why we provide it," said Ahlmer.
For retailers, it's all about moving their bottom line out of the red for the year and into the black. It's the most important time of the year.
"It's huge. Between 20 and 40 percent of their revenue comes in this 36-day period," said Ahlmer.
For customers, it's all about saving money.
"We're going to have deals all over the entire store," said Hughes, who says Target stores will open at 9 p.m. this year.
From iPods and iPads to Furbys and flat screens, those deals will be deep and the lines will be long for the hottest items on your little one's list.
"We're just kind of waiting to see what that big toy's gonna be this year,"said Hughes when asked what parents will be hunting for.
Also this year is Walmart's 'One Hour Guarantee.' If customers are in line between 10 and 11 p.m. on Thanksgiving, they will be guaranteed an iPad 2 for $399, which includes a $75 gift card, a 32-inch flat screen for $148 or a Blu-ray player for $38.
Walmart announced they will open at 8 p.m. on Thanksgiving.

"Hopefully you shop earlier, you come back again," said Ahlmer.
Some retailers have already published their Black Friday ads and others have been leaked. You can find all of that information in the special "Black Friday" section of our website.
Copyright 2012 KPHO CBS 5 (Meredith Corporation). All rights reserved.