Brewer considers possible 3rd term as governor
Posted:
Updated: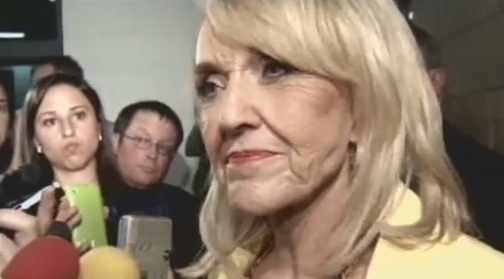 (Source: CBS 5 News) Arizona Gov. Jan Brewer is exploring the possibility of running for a third term.
PHOENIX (CBS5) -
She went from one of the country's most unpopular governors to one of the most beloved, and now there's talk of Arizona Gov. Jan Brewer seeking an unprecedented third term.
CBS 5 News caught up with the governor Tuesday at a special ceremony to celebrate the Phoenix Rescue Mission's 60th anniversary.
Brewer refused to tip her hand about another campaign in 2014.
"I've not made a decision on what I'm going to do at this point in time," Brewer said.
But even if she wants to run, the governor will likely not have the final say on her future.
According to political experts, the courts will likely determine whether Brewer is eligible to run again.
Article 5 Section 1 of the Arizona Constitution states:
"No member of the executive department after serving the maximum number of terms, which shall include any part of a term served, may serve in the same office."
Brewer only served a partial first term after becoming governor in 2009, when Janet Napolitano left to become U.S. Homeland Security Chief.
Brewer was then re-elected in 2010.
"I think it's interesting, just the Constitution itself and what it says and who it's being interpreted by," said Brewer. "I've been encouraged from people in the state and elsewhere to at least consider it. I haven't given it that kind of consideration."
CBS 5 News asked Valley attorney Dan Barr what the chances are that Brewer will be allowed to run for a third term.
"There are people who claim that the world is flat, it doesn't mean they have a good argument and this is one of those arguments," said Barr. "The Constitution is very clear. the governor is term limited at two terms and that includes any portion of any term."
Copyright 2012 KPHO (Meredith Corporation). All rights reserved.