UI customers could see a rate increase
Posted:
Updated: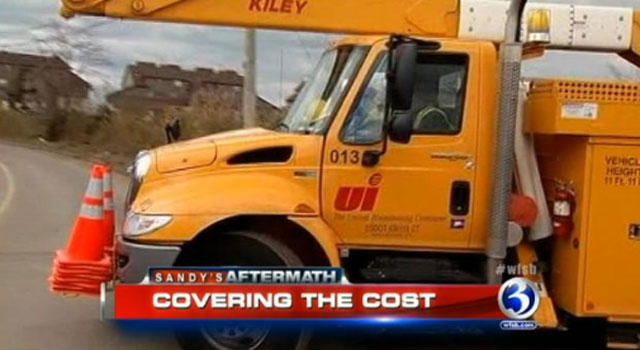 ORANGE, CT (WFSB) -
United Illuminating said Tuesday that it "may" seek a rate increase to cover costs of Hurricane Sandy after the storm cost the utility company close to 40 million to restore power to all its customers.
Cosey Beach in East Haven was hit hard before by other storms, but Hurricane Sandy has left residents still fixing damaged homes two weeks later. And reaction to the possibility of paying "more" is mixed.
East Haven homeowner Roberta Sabo is trying to get rid of sand that washed up from the storm. Her basement was flooded, and her boiler and furnace were ruined. She is still waiting to hear back from her insurance company.
And an electric rate increase is not exactly the news she wanted to hear.
"No way, they should eat the costs," Sabo said.
Jim Torgerson, president and chief executive officer of UIL Holdings, previously stated that it cost UI about $25 million to pay for the restoration during Hurricane Irene and estimated the cleanup from Hurricane Sandy to cost between $35 million to $45 million.
UI, which is the state's second largest utility company, is considering asking state regulators to increase rates. UI Spokesperson Michael West said it would not be based solely on costs from the storm, but infrastructure improvements as well as capital investments.
According to West, Hurricane Sandy was the most expensive storm since 2009, which left damaged poles, wires and other equipment in its wake.

The Connecticut Public Utilities Regulatory Authority, which rules on rate increases, looks at what costs are eligible, while determining how those costs are applied and considers what preparations were made by the company and its response after the storm.
Homeowner Hillel Auerbach said his beachfront house lost some shingles but is still intact after Hurricane Sandy. However, he said he is OK with the utility company needing to cover its costs, but doesn't want to see a big increase right away.
"Spread it out over time ... as gentle as possible," Auerbach said.

Connecticut Light and Power, which is the state's largest utility company, has yet to say what Hurricane Sandy is going to cost its company. On Tuesday, officials from the utility company said it's too soon to tell if they will seek a rate increase.
Copyright 2012 WFSB (Meredith Corporation). All rights reserved.