Police need help catching peeper
Posted:
Updated: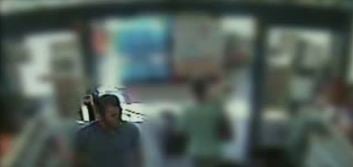 PHOENIX (CBS5) -
Phoenix police said they need your help catching a peeping pervert who's been looking up womens' skirts.
"We have a lot of weird people out there, unfortunately, but this is the first time where I saw someone just literally lay on the floor of a busy store on a busy weekend," said Silent Witness Sgt. Darren Burch.
Burch said the suspect strikes in broad daylight at stores where you'd never think you'd have to be on edge. The first was a Michael's store near the Paradise Valley Mall.
"A woman felt something brush against her leg, turn around and to her shock she saw the guy looking up her dress laying on the floor of the store," Burch said.
Burch said the suspect struck again at a 99 Cent store just down the street. The first victim was 19, the second in her 40s. He said the suspect peeped both times on a Sunday around 2 or 3 in the afternoon.
"I think that's the clue in finding this suspect. He probably lives in the area, he probably feels comfortable in that area," Burch said.
But Burch said it's likely the suspect has done this more than the two times police know of, which is why they want to catch him before he does it again.
"This is going to be an unusual case when we finally do catch him and piece it all together," he said.
Police don't have a very good idea about how old the suspect is, they said between 20 and 40. But they hope his height, he's between 5'5" and 5'7", and his muscular build will tip people off.
If you do know who he is call Silent Witness at 480-WITNESS or 800-343-TIPS.
Copyright 2012 CBS 5 (Meredith Corporation). All rights reserved.