Firefighters shocked while battling Glendale flames
Posted:
Updated: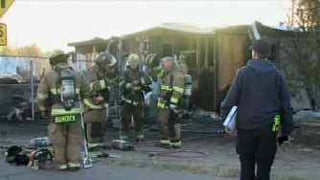 Glendale fire
GLENDALE, AZ (CBS5/AP) -
Five firefighters were shocked by live wires while battling a mobile home fire in Glendale Monday afternoon, fire officials said.
The fire started outside and quickly spread, according to Glendale Fire Department spokesman Mike Young.
The mobile home had multiple add-ons probably not up to code, according to Glendale Battalion Chief Tim Wayne. The main electrical shut-off was in the center of the house and was badly burned by the blaze, Wayne said.
Firefighters were not able to turn off the power which energized the whole metal trailer and the surrounding fence, Wayne said.
The firefighters were shocked when a power line struck a chain link fence near the home and charged it. None of the firefighters suffered serious injuries.
The couple who lived in the mobile home were able to get out. The husband was transported to a local hospital. The wife was not injured.
They are still trying to determine the cause of the fire. Wayne said firefighters were hampered by a large amount of debris and personal belongings blocking their way.
Copyright 2012 CBS 5 (Meredith Corporation). All rights reserved. The Associated Press contributed to this report.