Only on 3
Teens arrested for cemetery vandalism
Posted:
Updated: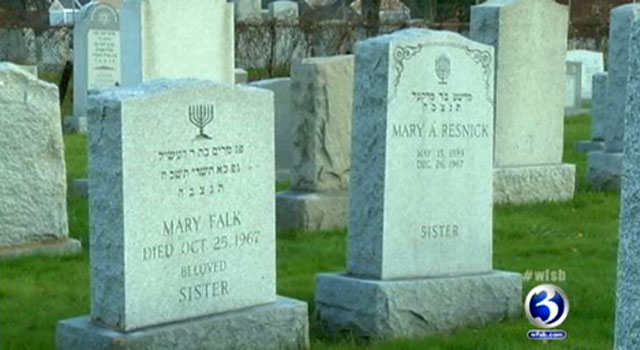 HARTFORD, CT (WFSB) -
The Hartford Police Department has arrested three teenagers after they said the boys vandalized dozens of headstones and monuments at Jewish cemeteries in the north end of the city.
In total, 95 headstones and monuments were damaged at a cemetery located at the corner of Waverly Street and Tower Avenue between Oct. 12 and 19, according to police.
"Here we had 95 all at once, that was a lot," said Henry Zachs, who is the co-chairman of the Association of Jewish Cemeteries.
During the police investigation, the detectives obtained information from community service Officer Teresa Velez for finding the three boys, who were between the ages of 14 and 15 and live in the neighborhood.
"I understand she went door to door and really found these people that had done this to the cemetery," Zachs said.
"She had gotten information that kids were using the cemetery as a cut-through to get to the park," said Hartford police Lt. Brian Foley.
Investigators told Eyewitness News that the teenagers now face charges including interfering with a cemetery or burial ground and criminal mischief.
"We're fortunate that it was not an anti-Semitic act," Zachs said.
The Hartford Police Department has determined that the vandalism is not a hate crime as originally believed.
"Through our investigation, we're all very confident that there was no anti-Semitic bias in this incident," Foley said.
The Association of Jewish Cemeteries of Greater Hartford released a statement and thanked the Hartford Police Department.
"We cannot adequately express our appreciation and admiration of the Hartford Police Department," said Association of Jewish Cemeteries President Lisa K. Vaeth in a statement Monday night. "They worked around the clock to locate the individuals who are responsible for this unspeakable crime."
The vandalism set off a series of meetings on how to improve security at all its locations in Hartford and surrounding towns.
"It is important to remember that this is a bittersweet day for the Jewish community; the emotional damage that this senseless act has put on these families will last a lifetime," said Vaeth in a statement Monday night. "We will now have to consider investing in security measures that we cannot readily afford."
Copyright 2012 WFSB (Meredith Corporation). All rights reserved.