UPDATE
Dangerous county jail escapee once again in custody
Posted:
Updated: Nov 11, 2012 10:28 PM MST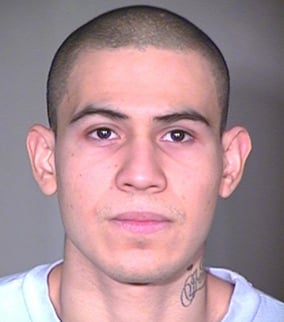 (Source: AZ Dept. of Corrections) Adan Orduno's prison photo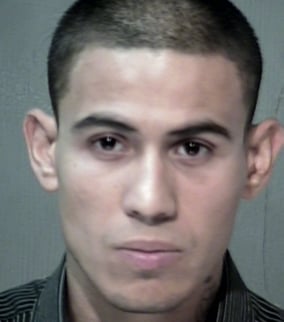 (Source: Maricopa County Sheriff's Office) Orduno's most recent booking photo
PHOENIX (CBS5) -
An inmate who escaped in his jail-issue pink shorts from the Lower Buckeye Jail on Sunday morning while being held on attempted murder and robbery charges is back in custody, the Maricopa County Sheriff's Office said.
Sheriff Joe Arpaio said Adan Orduno, 26, was arrested just after 6 p.m. Sunday after using investigative techniques, interviews and sources.
Deputies set up a rendezvous with the suspect and arrested him near Seventh Avenue and McDowell, according to Arpaio.
Arpaio said Orduno covered empty milk cartons with his black and white jail clothes to make it appear he was in his cell.
He apparently crawled through ceiling tiles and jumped over a jail fence only in his pink shorts.
"We feel he pried the ceiling in the cell open and went through some crawled spaces and hopped over the fence," said Arpaio.
When asked how the inmate could get away without being noticed, the sheriff said they are looking at policy corrections that may need to be made.
Arpaio went on to say that Orduno was picked up by a driver who noticed him and took him to get clothes at his mother's home before he was arrested.
Orduno was described as "extremely dangerous" and was discovered missing from the jail at 3250 W. Lower Buckeye Rd. at about 8:53 a.m. Sunday, MCSO spokesman Christopher Hegstrom said.
Jail personnel searched jail property, including the tent city lock-up, in an attempt to determine whether Orduno might be hiding somewhere on the grounds or if he had made a clean getaway.
Late Sunday afternoon, Hegstrom confirmed Orduno was not hiding anywhere in the complex
Orduno was one of two suspects arrested last fall in connection with a Phoenix jewelry store robbery and subsequent officer-involved shooting Oct. 28, 2011.
His alleged accomplice in the robbery, Jonathan Corrales, 23, told authorities he planned to sell a couple of pieces of the stolen merchandise and use the money to feed his family.
"The guy does have a bad record," Arpaio said Sunday. "We are concerned about that. He fled from police in the past. So they should be on alert."
Arpaio said Orduno will face more charges.
It is not clear if the driver who picked the inmate up will face any charges.
Copyright 2012 CBS 5 (Meredith Corporation). All rights reserved.