UPDATE
Sun City man pleads not guilty to shooting wife
Posted:
Updated: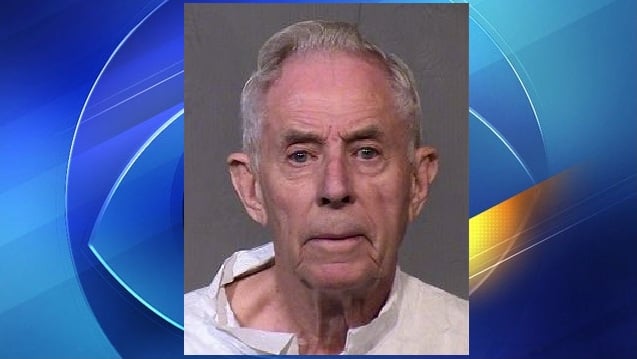 George Sanders
SUN CITY, AZ (CBS5) -
A Sun City man pleaded not guilty to shooting his wife in the head inside their home on Nov. 9, according to court officials.
George Sanders, 85, made his plea before a Maricopa County judge on Wednesday morning.
Virginia Sanders, 81, is in the hospital fighting for her life, according to Maricopa County sheriff's spokesperson Christopher Hegstrom.
The home is located at Pinion Lane and Wheatridge Drive in Sun City where the couple lived and where they are known as Scotty and Ginger.
"Scotty was a neat guy. He took care of Ginger," said neighbor Jarvis Van Klompenberg.
Neighbors said she had health problems.
"She had MS and she was in a wheelchair since we ever knew her," said Van Klompenberg.
Van Klompenberg explained that George Sanders took care of his wife for years, "I think he even gave up golf to take care of her," he said.
Maricopa County sheriff's deputies responded to the home after someone reported hearing a gunshot. Investigators believe George Sanders shot his wife in the head. He was arrested and is now facing one count of attempted homicide.
Neighbors said the two were a happy couple.
"He took up piano later in life so we would hear him play the piano and he would sit on the back porch and play the guitar and he would sing to her and she would kind of sing with him," said Virginia Van Klompenberg.
Piecing together why this happened is still under investigation.
"We can't be in his shoes so we don't know what he went through, you know," said Jarvis Van Klompenberg.
George Sanders is expected to make his next court appearance on Jan. 11.
Copyright 2012 CBS 5 (Meredith Corporation). All rights reserved.