Tucson victims call for gun reform
Posted:
Updated: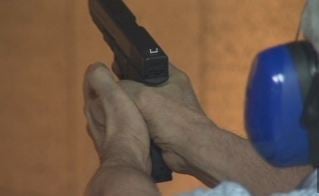 PHOENIX (CBS5) -
Many Tucson shooting victims are pushing for gun reform after accused shooter Jared Loughner's sentencing Thursday.
Victims of the tragic Tucson shooting are on a mission.
"My new quest is to make sensible gun laws," said Patricia Maisch.
Maisch grabbed an extra magazine that kept Loughner from re-loading his weapon when he allegedly opened fire at a public event in front of a Safeway store in 2011.
Maisch, Phoenix Mayor Greg Stanton and several of the shooting victims are working with a group called Mayors Against Illegal Guns. It's an organization dedicated to preventing criminals and the mentally ill from obtaining guns.
In a statement issued by Stanton's office Friday he said,
"As mayor, my job is to keep our city safe. I signed on to Mayor's Against Illegal Guns because their work focuses on punishing criminals who traffic illegal weapons. This isn't a conservative or liberal issue, the flow of illegal guns impacts our community right here in Phoenix and we must do everything we can to stop it."
Pam Simon was shot in the chest at the Safeway while working for Congresswoman Gabrielle Giffords.
"We are completely bi-partisan and amongst about half of the survivors are gun owners," said Simon.
She said they are not fighting for gun control, but for gun reform of things like making less ammunition available and more background checks.
"Right now about 40 percent of fire arms purchased in the United States are purchased legally, but with no background check," said Simon.
The owner of Shooter's World in Phoenix Phil Roux says new legislation is not going to stop the deadly use of guns.
"Any type of legislation involving background checks, the type of crime will just change," said Roux.
But the victims are still hopeful.
"Perhaps a difference can be made so other people don't have to experience what we are experiencing," said Simon.
Roux said if you have a family member who has a mental illness, he says steps can be put in place so that they cannot pass a background check and purchase a gun.
Copyright 2012 CBS 5 (Meredith Corporation). All rights reserved.