City of Phoenix a finalist for $5 million
Posted:
Updated: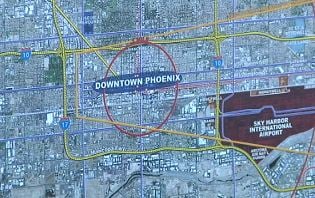 PHOENIX (CBS5) -
The city of Phoenix is a top 20 finalist in the "Bloomberg Philanthropies' Mayors Challenge."
This competition was created to inspire U.S. cities to come up with innovative ideas that solve major challenges and improve city life. The grand prize for the winning idea is $5 million.
The city of Phoenix's idea is to create smart energy districts that are hyper-local and community-driven.
"What's smart energy policy in downtown Phoenix may not be smart at 51st Avenue and Happy Valley, or may not be smart at 68th Street and Bell," said Phoenix Mayor Greg Stanton.
Stanton says he's made it a priority to be to be smarter about energy uses, including pushing alternative forms of energy, such as solar. He says it's good for citizens and good for business.
"We're going to send a message to the rest of the country and the world that Phoenix is on the cutting edge of sustainability, it's a long term economic advantage, and it's a job creations strategy," Stanton said.
More than 300 cities had entered their idea into the challenge.
"If we're successful in winning this competition, and I hope we are, you're going to see a much greater focus on smart grid policy sustainability policy, and you're going to see a much more local approach to maintaining energy efficiency, I'm really excited about it," added Stanton.
The mayor adds that even if we don't win, he'll continue to pursue the idea of smart energy districts.
"We're going to take these ideas and utilize some of them anyway even if we don't get the resources, but if we're able to get the grand prize, you better believe it's going to be on overdrive."
Winners of the Mayor's Challenge will be announced in the spring of 2013. Besides the $5 million grand prize, there will be four additional prizes of $1 million each.
Copyright 2012 CBS 5 (Meredith Corporation). All rights reserved.