Poll watchers to keep an eye out for Election Day irregularities
Posted:
Updated: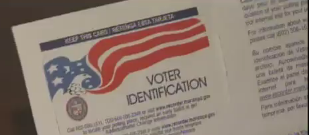 © CBS 5
PHOENIX (CBS5) -
Poll watchers will be out in full force across the state Tuesday to make sure no one violates Arizona election laws.
Sam Wercinski, with the non-partisan group Arizona Advocacy Network Foundation, said both Republicans and Democrats do a pretty good job following the rules, but every so often there will be some kind of election day shenanigans.
"There have been incidents were individuals will videotape someone through a car window as they're pulling into a poll location," said Wercinski. "There may also be an individual who is brandishing a weapon, which is completely illegal."
Election Day intimidation and harassment does happen, said Wercinski.
Which is one of the reasons why the Arizona Advocacy Network Foundation will have more than 300 poll watchers scattered across the state to make sure things run smoothly at local precincts.
Tom Morrissey is chairman of the Arizona Republican Party.
He's heard about voter intimidation in other states, but insists it just doesn't happen in Arizona.
"I certainly know we're not going to intimidate anybody," said Morrissey. " A lot of our poll watchers are senior citizens. They're not into the intimidation thing. I don't see that on either side."
Both Republicans and Democrats are allowed by law to have one poll watcher in every precinct.
However, officials on both sides said their focus will be more on voters being turned away because of some mix-up with voter registration or showing up at the wrong precinct.
Poll watcher Nancy Wilkins said if she sees anything suspicious she has a hotline number to call it in.
"Your main goal is to observe, report and document," said Wilkins. "They want you to observe what's going on to make sure everything follows protocol."
Election officials said that voter fraud is not really a major issue.
There have been less than 10 cases of voter fraud in Arizona in the past 10 years.
The key for all poll watchers is making sure everyone's vote counts.
Copyright 2012 CBS 5 (Meredith Corporation). All rights reserved.