Kirkpatrick, Paton in race for Arizona's 1st Congressional District
Updated: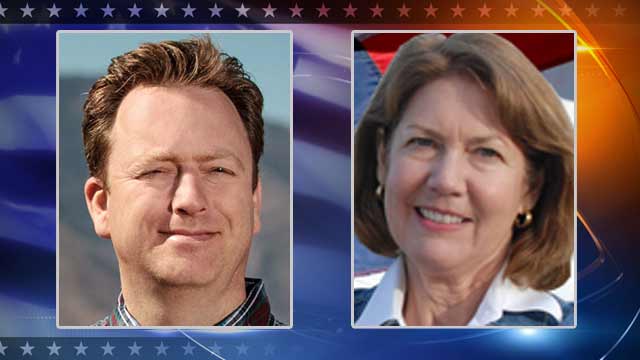 Republican Jonathan Paton and Democrat Ann Kirkpatrick
PHOENIX (CBS5) -
The race between Democrat Ann Kirkpatrick and Republican Jonathan Paton for a U.S. House seat in Arizona's 1st Congressional District was too close to call as of early Tuesday morning.
Kirkpatrick, of Flagstaff, represented District 1 for one term after the 2008 election. She lost her seat to U.S. Rep. Paul Gosar in 2010.
Kirkpatrick said her chief priority is bringing jobs to the district. "To create the jobs our middle class needs, we must jumpstart our economy," she said on her website. "We need to support our small businesses and make sure American jobs are not shipped overseas."
Paton, of Marana, is a former state legislator and lobbyist for a payday loan company. He entered the race last spring. Opponents have blasted him as "Payday Paton" for his work as a lobbyist.
He said he was running for Congress to "put an end to the blank check spending of President Obama and Ann Kirkpatrick and to restore fiscal sanity in Washington." He said he would seek lower taxes and has criticized the federal government's overregulation.
The Libertarian in the race was Kim Allen, a retired building contractor and Navy veteran.
The new 1st Congressional District stretches from northern Pima County all the way to the Utah border and encompasses many diverse communities including Marana, Oro Valley, Saddlebrooke, Casa Grande, Maricopa City, Globe, Safford, the White Mountains, Flagstaff, Sedona and the Navajo Nation.
Stay with cbs5az.com for complete election results as the polls close.
Copyright 2012 CBS 5 (Meredith Corporation). All rights reserved.