CAMPAIGN 2012
Sheriff Arpaio competes with Penzone for 6th term
Updated: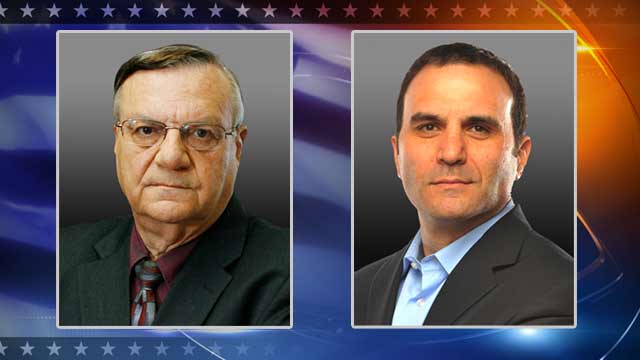 Republican Sheriff Joe Arpaio and Democrat Paul Penzone
PHOENIX (CBS5/AP) -
Democrat Paul Penzone is trying to unseat Republican Sheriff Joe Arpaio who is going for his sixth term of office.
Arpaio has been sheriff since 1993.
Penzone is a 21-year veteran of the Phoenix Police Department and longtime face of the Silent Witness program.
In his campaign, Penzone promised to service the public, not to be served by the public.
Penzone accused Arpaio's office of financial mismanagement and leveled criticism at the office for either inadequately investigating or not investigating at all hundreds of sex-crimes cases.
Arpaio refused calls from critics to resign because of the botched the sex-crimes investigations and allegations that his office racially profiles Latinos.
Chad Willems with Arpaio's campaign said the mishandling of the sex-crime cases was brought to the sheriff's attention in 2007 and he claims the sheriff immediately ordered the cases be re-opened and investigated.
Police Lt. Mike Stauffer is running as an independent. Stauffer came to Maricopa County in 1991 and joined the Scottsdale Police Department.
Throughout the campaign, Arpaio has been far ahead of his challengers in fundraising.
Stay with cbs5az.com for results in the race.
Copyright 2012 CBS 5 (Meredith Corporation). All rights reserved. The Associated Press contributed to this report.