Malloy advising residents, business owners to seek help from FEMA following Sandy
Posted:
Updated:
By Joseph Wenzel IV, News Editor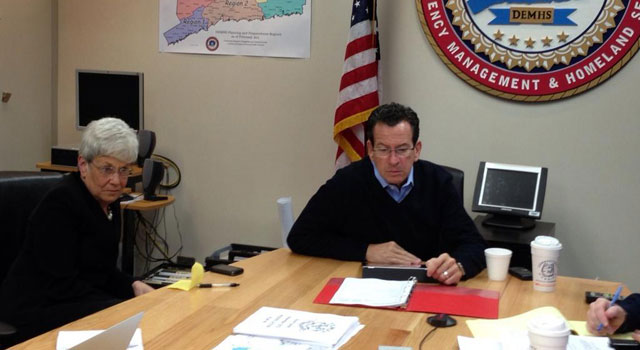 © The following photo was provided by the governor's office.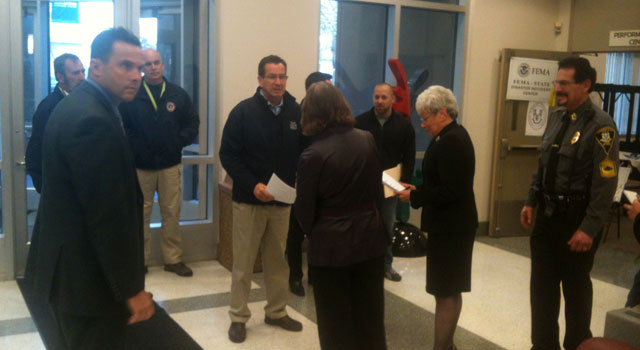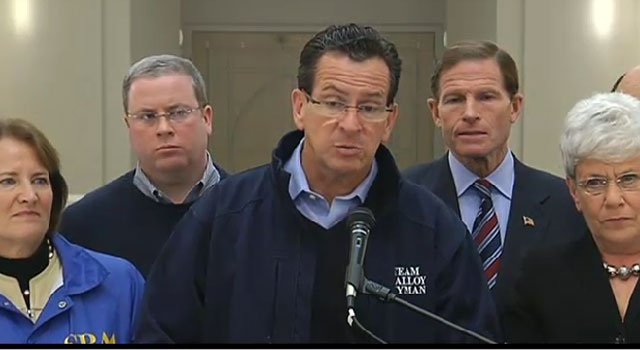 © Gov. Dannel Malloy speaks to media at press conference Saturday afternoon at the FEMA Disaster Recovery Center at Housatonic Community College in Bridgeport.
BRIDGEPORT, CT (WFSB) -
After touring the damage left by Hurricane Sandy for the fourth day in a row, Gov. Dannel Malloy told residents and small business owners to "open up their files to FEMA" during a press conference Saturday afternoon in Bridgeport.

A FEMA Disaster Recovery Center along with an office for the United States Small Business Administration was setup at Housatonic Community College in Bridgeport on Saturday.
"We will get small business owners and homeowners what they need so they can get back on their feet," said U.S. Small Business Administration Administrator Karen Mills during Saturday's press conference.
In the coming days, another center will be established at the Civic Center in Greenwich and others will be setup in New Haven and New London counties.
"So, there will be one place where they (small business owners and residents) can get a coordinated effort," Mills said.

Low-interest loans are available for small business owners and residents and can be turned around in seven to 10 days, Mills said. She added the money could be in the people's hands in five days after that.
"We will be with you every step of the way," Mills said.
The amount of paperwork in the application has been reduced, she added.
Small business owners and residents that suffered damage as result of Hurricane Sandy do not need to visit a center and can just call FEMA at 1-800-621-3362 or visit its website.
"We are committed to being on the ground as long as needed," Mills said.
Hundreds of thousands of people remain without power as a result of the storm, and at least four people were killed during the storm.
As of 4 p.m., there were 86,125 Connecticut Light and Power customers or about 6 percent are still without power. As of 4 p.m., there were 33,699 United Illuminating customers or 10.53 percent without power.
"I'd be satisfied if they got everything back three days ago," said Malloy regarding if he's happy with power companies and restoration.
Even with all the devastation, he wanted the power back sooner.
"If you don't have power, there's no way to be satisfied," Malloy said.
Malloy toured damage in Norwalk and Bridgeport Saturday afternoon. He talked with small business owners including management from Overton's Seafood in East Norwalk along with residents of Fairfield County.
On Friday, Malloy toured New Haven, surveyed damage in Stonington and New London County on Wednesday and visited some of the hardest hit areas such as Newtown, Easton, Greenwich, East Haven and Bridgeport on Tuesday.
Malloy said Lt. Gov. Nancy Wyman and him talked with President Barrack Obama Saturday morning on the status of the recovery following Hurricane Sandy. He added that he has been talking to the president "on a regular basis" over the past few days.

"This president is focused laser like on the recovery," Malloy said.

A declaration announced by Malloy on Tuesday night will allow the counties of Fairfield, New Haven, Middlesex and New London "to receive important federal assistance that will supplement the state and local recovery efforts." The declaration will provide 75 percent federal funding for protective measures and debris removal taken by state and local agencies.
United States Homeland Security Secretary Janet Napolitano came to Connecticut Thursday to review the massive damage left in the wake of Hurricane Sandy. Napolitano along with FEMA will assess other parts of the state to determine if other counties will receive funding.
The Connecticut National Guard are on active duty and helping with recovery efforts Saturday.
For more information and updates on the recovery, visit the following website.
Copyright 2012 WFSB (Meredith Corporation). All rights reserved.