Woman arrested for attempting to vote twice
Posted:
Updated: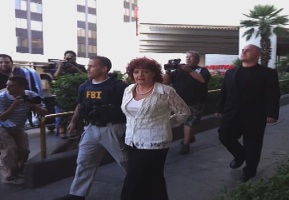 Roxanne Rubin is taken into custody at the Riviera. (Matt DeLucia/FOX5)
LAS VEGAS (FOX5) -
A southern Nevada woman was arrested on Friday afternoon at the Riviera hotel/casino for attempting to vote twice in the presidential election.
According to the office of the secretary of state, on or about Oct. 29, Roxanne Rubin voted at a polling station at the Anthem Community Center in Henderson. Later the same day, Rubin allegedly attempted to vote at the polling station at 9725 S. Eastern Ave.
A poll worker at the second station conducted a voter database search that indicated Rubin had already voted, something she denied.
She was not allowed to vote and a complaint was filed. Rubin was taken into custody by agents with Nevada's multi-jurisdictional Elections Integrity Task Force.
"I don't know why I'm here," Rubin told reporters as she was escorted to a waiting police car Friday.
She was booked into the Clark County Detention Center and charged with one count of voting more than once in the same election, a Category "D" felony.
"There are two important points worth noting in this case," said Nevada Secretary of State Ross Miller. "First, is that as we've said and demonstrated in the past, we take all elections complaints very seriously and investigate them thoroughly. Second, this demonstrates the integrity of the system. Someone thought that by going to two different locations they'd be able to cast two ballots.
"The system immediately caught that, the task force responded, and an arrest was made. It's also worth noting that the task force has at least one other case of voting or attempting to vote twice in an election presently under investigation. We will pursue all such cases and complaints aggressively."
Click for more information on voter rules and rights in Nevada.

Copyright 2012 KVVU (KVVU Broadcasting Corporation). All rights reserved.