Tree damaged dead end street in Milford
Posted:
Updated: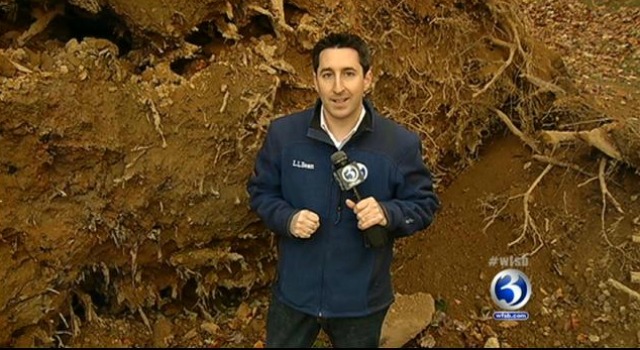 MILFORD, CT (WFSB) -
A tree in Milford was split into two from high winds caused by Hurricane Sandy and cut off the road and power from homeowners on a dead-end street.
When the tree fell on Marion Avenue, it snapped an utility pole in half and knocked out power to the neighborhood. The downed tree also destroyed a truck on the street and smashed a transformer.

"The wind gusts were at their peak 80 mph or whatever," said Jeff Proud of Milford. "We were looking out the window and the tree came crashing down."
The downed tree fell onto Marion Avenue and prevents the 10 or so homeowners from traveling on the roadway. The residents of the neighborhood, which is located near Silver Sands State Park, are driving through the woods and on a paper road, which was never developed.
"There is a way to get out," said Bob Lyons of Milford. "The city of Milford mapped out some paper streets, which they never paved over. They own the rights, so we went down between a couple of houses, take a left down another paper street to Meadow side in order to get out."
The police have since surrounded the tree with yellow caution tape. And residents of the dead-end street understand how lucky they are.

"You can live without power, but if you have a hole in your roof, that's tremendous," Proud said. "I miss my TV really bad and the cold showers are terrible. It's only a matter of time. We can live with the inconvenience."
Copyright 2012 WFSB (Meredith Corporation). All rights reserved.