Friday marks last day for in-person early voting
Posted:
Updated: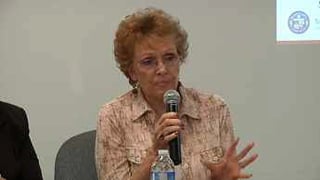 Maricopa County Recorder Helen Purcell
PHOENIX (CBS5) -
Friday, Nov. 2 is the last day for registered Phoenix voters to cast an early ballot in person rather than by mail.
Ballots must be received by the Recorder's Office no later than 7 p.m. on Election Day, and postmarks do not count.
Voters can drop off their early voting ballot on Election Day at any polling place within Maricopa County. [Click for list of early voting poll places and hours]
With less than a week to go before the 2012 General Election, voter registration in Arizona has risen to 3,124,712 - an increase of 24,137 registered voters since the 2012 Primary Election in August. Arizona Secretary of State Ken Bennett said each of the state's five recognized parties added to their rolls.
Of the state's 3.1 million voters, 1,120,992 are Republicans and 952,931 are Democrats. Libertarians make up a little less than one percent of the state's total registration with 22,086 while 4,863 voters are currently registered as members of the Green Party. Since joining the state's recognized parties in 2011, the Americans Elect Party has enrolled 237 voters.
For the first time since 1990, registration of Arizona's "independent" voters, or those who have not designated one of the state's five recognized parties, has declined to 1,023,603 - a decrease of 2,031. Declines in active voter registration are commonly attributed to routine list maintenance being performed by county recorders, Bennett said.
Polls open at 6 a.m. on Nov. 6 and close at 7 p.m. State law mandates that results will not be announced until 8 p.m. [Get your complete election coverage on cbs5az.com]
Copyright 2012 CBS 5 (Meredith Corporation). All rights reserved.