UPDATE
Tempe PD: Burglary suspect was feeding drug habit
Posted:
Updated: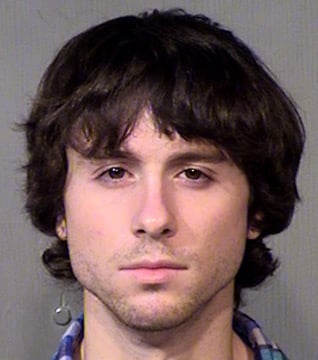 (Photo: Maricopa County Sheriff's Office) Michael Dean Tolley is suspected of committing at least 17 burglaries in his neighborhood between Sept 16 and Oct. 29.
TEMPE, AZ (CBS5) -
Tempe police said a 24-year-old man claimed he was trying to feed his methamphetamine and heroin habits with a series of brazen residential burglaries near his home.
Michael Dean Tolley is suspected of committing at least 17 burglaries in his neighborhood near South Mill Avenue and Baseline Avenue between Sept. 16 and Oct. 29, Tempe police said.
They tell CBS5 he targeted homes with unlocked doors in the middle of the night as some of his victims slept.
"He would walk by the victims," said Tempe Police Sgt. Michael Pooley. "He would grab their purse or their cell phone or their laptop and, sometimes, go through the purse as the person was sleeping next to him."
Tempe resident Geneva Willis said Tolley burglarized her home once in early October and made a second unsuccessful attempt a few weeks after that.
She claims Tolley hopped into her backyard from an alley and went through her doggie door to unlock a deadbolt - making off with her designer purse that contained her wallet, keys and a deactivation devise for her home security system.
"I felt so violated," Willis said. "You know, to think, how dare he come into my home when I'm asleep and he wants to come in my home and take what is not his; what I've worked hard for."
She said she has since spent about $1,000 making security upgrades to her home.
Police tell CBS5 Tolley said he burned some of the stolen purses, sold several stolen items on the street and posted others on the website Craigslist.
They arrested him at his home Tuesday, after detectives set up a fake buy and determined the items belonged to one of Tolley's victims.
"There were certain pieces of property that were very specific to a victim, that the victim would only have, and that's what kind of tipped them off - which made the arrest possible in this case," Pooley said.
After serving a search warrant, police say they found many stolen items in Tolley's home, including seven purses.
Detectives are currently going through those items and trying to identify victims.
Tolley faces 10 counts of trafficking stolen property and 17 counts of burglary, all second-degree felonies, police said. He also faces two counts of arson and two counts of first-degree criminal trespass.
Copyright 2012 CBS 5 (Meredith Corporation). All rights reserved