School's no-Halloween policy has Arizona dad fuming
Posted:
Updated: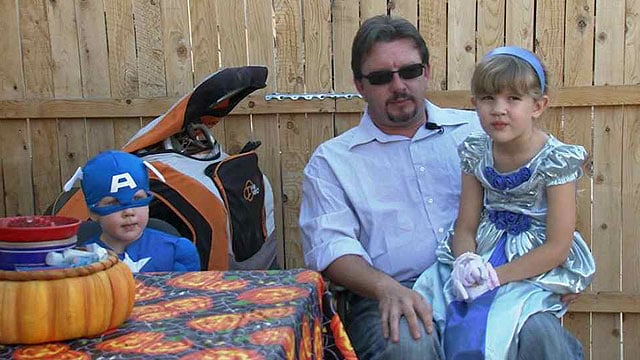 (Photo: CBS 5 News) Jason Baker said he learned from the Isaac Preschool principal this week that his daughter's class wouldn't be allowed to dress up or celebrate Halloween.
PHOENIX (CBS5) -
A Valley father is upset that his daughter's preschool isn't allowing students to dress up or celebrate Halloween because of one group's religious views.
Kaylee Sharber goes to an Isaac Preschool campus near 35th Avenue and McDowell Road in Maryvale.
She wanted to dress up as Cinderella but the campus hasn't celebrated Halloween in 10 years.
When Kaylee's father, Jason Baker, learned of the school's policy, he was floored.
Wearing her Cinderella costume made it obvious that Kaylee feels like a little princess.
"How, as a parent, can you deny these children this fun day?" Baker asked.
"At this age, these kids don't care about anything else other than going to school in a costume and getting candy," he said.
Baker said he learned from the school's principal this week that his daughter's class wouldn't be allowed to dress up or celebrate Halloween.
"She did however, confirm that it is due to an outside group that has moved this so that kids can't even dress up for Halloween," he said.
Neither Baker nor the district revealed what group was responsible for initiating the policy.
CBS 5 News called the school district and found out the campus has not celebrated the holiday in 10 years to "keep the focus on learning and not have the focus be on Halloween. And if parents at that school wanted to change the policy, they would have to come together and decide as a group that they wanted to implement a different policy," according to Abedon Fimbres, director of community relations with the Isaac School District.
Baker said he's willing to do whatever it takes to change things for kids on Halloween.
"I would love have all the parents from that school get together and find out what their actual feeling on it is," Baker said. "Not just one group, but all of them. I wanna hear it from all of them, 'cuz it's probably no more than a handful of people who are not even affiliated with the school anymore."
One other idea Baker said he has, is to allow those kids who don't want to or can't celebrate Halloween to go to another room or the library during the festivities. He said if it's only a handful then it doesn't make sense to have everyone miss out on the holiday.
"It's the one day that people in this country and people all over the world dress up in costumes, and how can you find this princess costume or a Captain America costume offensive?"
Baker said, adding that despite what the district says, he planned to send his daughter - in costume - to school.
Copyright 2012 CBS 5 (Meredith Corporation). All rights reserved.