Fire department preaches generator safety
Posted:
Updated: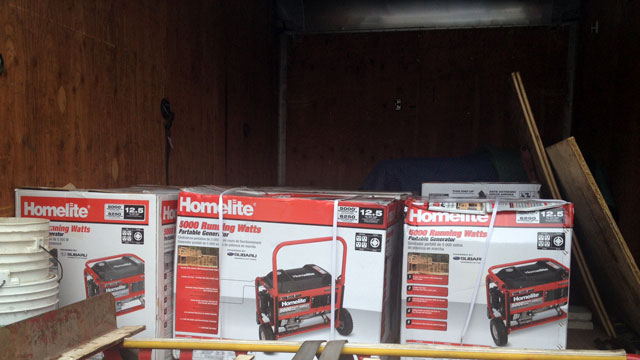 MIDDLETOWN, CT (WFSB) -
As the East Coast braces for Hurricane Sandy, many residents in Connecticut are already anticipating losing power, which caused a run on generators at local hardware stores and fire departments across the state making sure those buying them know how to use them.
At the Mid-state Tractor and Equipment Company in Middletown, customers are grabbing generators off the shelves.
"We try to fill in everyone that buys a generator, how they hook it up. Do they have an electrician or we'll tell them what they can do temporarily," said Jim Dumas of Mid-state Tractor and Equipment Company.
During Snowstorm Alfred, there was "one of the largest outbreaks of carbon monoxide poisoning ever seen in the nation with 143 cases of CO poisoning and five CO-related deaths," according to Connecticut Department of Public Health. Many of the problems were caused by improperly used or ventilated generators.
"Safety is a big topic," said South Fire District Ca pt. Michael Howley.
Middletown's South Fire District crews were called to several calls where people were running their generators inside their garages after Snowstorm Alfred. However, Howley said generators must always be run outside and need to be roughly 25 feet away from your home with the exhaust running away from your windows.
"Anytime you're running a generator, it's a gas engine and you've got to be cognizant of the fumes and where it's going," said Peter Tobey of Middletown Ace Hardware.
Employees at Mid-state Tractor and Equipment Company are also seeing a run of CO detectors. The CO detectors with battery backups should be installed in homes relative to where people sleep.
"It's a hazard you cannot see, you cannot smell, you cannot taste and the symptoms are very much like having a flu, headache nausea, dizziness," Howley said. "If it's at night and you're sleeping, and you don't have a detector, you're not going to know it."
For more information, visit Connecticut Department of Public Health website or call 860-509-7270.
Copyright 2012 WFSB (Meredith Corporation). All rights reserved.