Hurricane Sandy Slideshows

Complete devastation

Facebook photos

Damage Photos

Weather Alerts

List of Closings and Delays
Malloy meets with utility company leaders about Sandy
Posted:
Updated: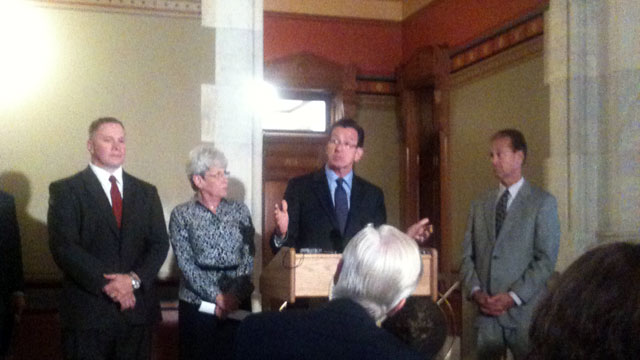 HARTFORD, CT (WFSB) -
Gov. Dannel Malloy met with the heads of the state's utility companies to discuss Hurricane Sandy and what type of preparations are being made in advance of the storm.
He made it clear to the media and residents at a press conference Friday afternoon that Connecticut and utility company officials are preparing for "moderate to worst-case scenario," however, their plan is "in flux."

"I, along with all citizens, are watching," Malloy said.
However, he is expecting a minimum of 7 inches of rain, which could mean flash flooding in some areas, as well as possible power outages.
"We have a planned response," he said.

Click here to watch video of Gov. Malloy speaking about Hurricane Sandy

Emergency management officials are monitoring the storm and are prepared to coordinate any potential state response, Malloy said.
During Snowstorm Alfred, power was knocked out for almost 1.25 million customers in the state and some remained without power for two weeks.

CL&P crews have cut several trees over the past year. The company is working to get commitments to secure 2,000 line workers and have them in Connecticut by Sunday. And more than 700 tree contractors have been requested.
"We started seeking firm commitments since yesterday," said Bill Quinlan, the CL&P senior vice president of emergency preparedness.
"There is a sufficient demand for land crews on the East Coast," he said.

Quinlan said that CL&P is "trying to assure good communication between mutual aid groups."
"We are setting up four large staging areas for those crews," Quinlan said.

On the state level, legislators passed laws that will increase the penalties on utility companies if they don't have adequate staffing levels before a storm, and in July there was a statewide drill.

Malloy said the Department of Emergency Management and Homeland Security is in communication with officials at Connecticut Light & Power as well as United Illuminating.
Cell companies have mobile units ready to be deployed if the storm hits Connecticut. According to AT&T officials, they have replaced the batteries at several hundred locations.

The National Guard has been contacted but not activated at this point, Malloy said.
"National Guard is working with us," he said.
Malloy also recommended that residents have cash on them, fill up their cash tanks, fully charge their phones and buy batteries.
For weather updates, people are being directed to www.ct.gov/Sandy or call 211 for shelter information.
The Emergency Operations Center will be run out of the state armory and expects to open Saturday morning.
"Now is the time to prepare," Malloy said. "Although the exact track of the storm is still uncertain, we are preparing for this storm to have a significant impact on the state and the public should do the same."
In the end, Malloy is preparing for the worst, but hoping for the best.

"I hope this thing doesn't hit us," he said.

Copyright 2012 WFSB (Meredith Corporation). All rights reserved.