Dirty Dining, Oct. 25: Cockroaches on walls at Shanghai Express
Posted:
Updated: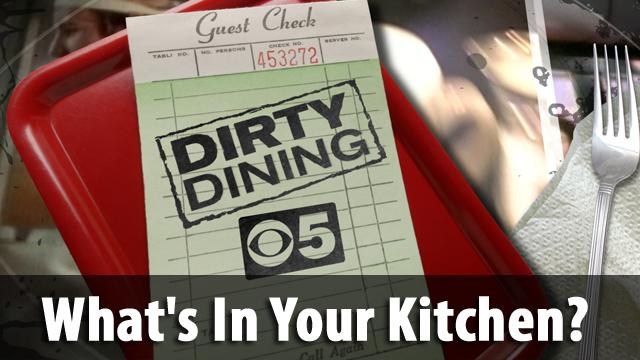 PHOENIX (CBS5) -
If you're a restaurant owner, the last thing you want is for a cockroach to drop on a health inspector when he walks around your kitchen. But that's exactly what happened at one Arizona restaurant.
Matka Indian Cuisine had cans of insecticide in the kitchen, a live roach in the dishwash area and various foods left uncovered. The place is now on notice to clean up or be closed down.
Every week, CBS 5 News is sent a list of restaurants that have been recently inspected by Maricopa County's Environmental Services Department. CBS 5 News selects five restaurants with some of the highest number of "risk factors." According to health inspectors, risk factors are considered major health code violations. For more details on the restaurant inspection scoring system, visit http://www.maricopa.gov/.
La Cazuelas
5124 W. McDowell Rd.
Phoenix
5 major violations
Casa Tarasca
12006 W. Thunderbird Rd.
El Mirage
5 major violations
The Brick
455 N. 3rd St.
Phoenix
6 major violations
Shanghai Express
3302 W. Thomas Rd.
Phoenix
7 major violations
Southern Spice
1849 N. Scottsdale Rd.
Tempe
7 major violations
Dean's List – Perfect health inspection scores
Nino's Mexican Food
10659 NW Grand Ave.
Sun City
Indian Village
6746 E. Cave Creek Rd.
Cave Creek
Ned's Krazy Subs
1927 N. Gilbert Rd.
Mesa
Pete's Fish and Chips
1111 E. Buckeye Rd.
Phoenix

Max and Ted's Neighborhood Bar
480 N. Arizona Ave.
Chandler
Cracker Barrel
21611 N. 26th Ave.
Phoenix

Copyright 2012 CBS 5 (Meredith Corporation). All rights reserved.