SEE THE BACK STORY
CBS 5 goes inside Palo Verde to get look at security
Posted:
Updated: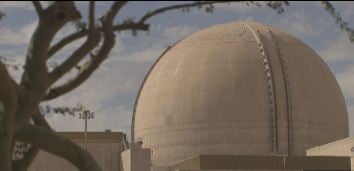 TONOPAH, AZ (CBS5) -
Questions about security at the Palo Verde Nuclear Power Plant have surfaced after several people have attempted to get beyond the gates. Just last month, a suspected illegal immigrant managed to get through one level of security. So we went to the facility to see what's being done to keep it secure.
Think of Palo Verde's security in layers. First, they've got the owner controlled area - the lowest security clearance; then there's the protected area - security's much tighter; and finally, the vital area, which is where the reactor is located and also calls for the highest level of security.
"It is the way we produce power, we understand it and we take it serious to protect the public," said Bob Bement, the senior vice president of site operations at Palo Verde.
Nuclear power is serious business. Because the fuel is unstable, and dangerous, the plant's first few levels of security are tight, like the airport, with a few additions, like hand scanners. To get to the next layer, the protected area, you'll need to take some tests - and not the ones you can study for.
"We know their background and we even do psychological testing on them," Bement said.
It's all in an effort to prevent anyone getting near the reactors who shouldn't be, whether they have ill will or not.
"It's just not what we want, we want to ensure the workers we get in here are cleared the way we think they should be cleared," said Bement, referring to an incident last month, when Nestor Martinez-Ochoa, a suspected undocumented immigrant, was caught at a vehicle checkpoint on his way to a construction site witnesses said he'd been before.
The Maricopa County Sheriff's Office questioned the plant's security.
"We absolutely learned from that and we continue to learn," Bement said.
Even though the checkpoint was a quarter mile away from the reactor, Bement said they took another close look at their security and met with the company that hired Martinez-Ochoa.
Shortly after that, APS, which owns the biggest chunk of the plant and operates it, invited us for a tour during the refueling process, when radiation emissions are low.
Crews monitor the reactor. If someone tries to enter a vital area where they don't belong, they will be greeted with several people with guns.
We don't have to worry about that, but we do have to worry about our wardrobe. Booties, coveralls and hoods are designed to protect against radiation exposure. We also have to worry about a maze of security checkpoints.
Once inside, a popping sound is music to these engineers' ears because it means everything is stable. A change in that sound could signal trouble. The top of the reactor weighs about 170 tons. They'll take it off, take the old fuel out and put the new fuel back in.
But a quick few minutes in these hot outfits is long enough for us, and we're checked for radiation several times before we leave. It's an awful lot of steps, with one very serious goal.
"To protect the plants from sabotage," Bement said.
Copyright 2012 CBS 5 (Meredith Corporation). All rights reserved.