Suspect in megachurch shooting waives first court appearance
Posted:
Updated: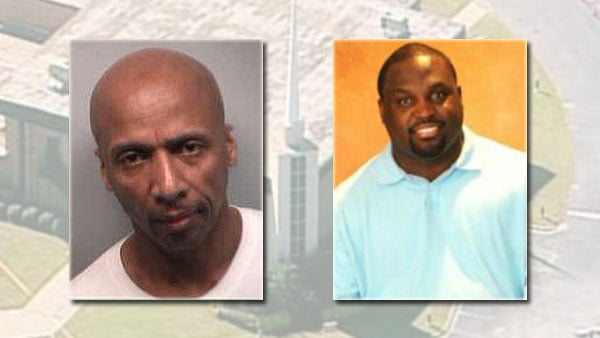 Floyd Palmer's mug shot and Greg McDowell (Source: Facebook)
FULTON COUNTY, GA (CBS46) -
The 52-year-old man whom police say shot and killed a man at a Fulton County church waived his first court appearance on Thursday morning.
Floyd Palmer was booked into the Fulton County Jail on Wednesday and is facing numerous charges, including homicide murder, felony murder, aggravated assault - murder and possession of a firearm during the commission of a felony.
Palmer is the prime suspect in the fatal shooting that left the congregation at World Changers Church International in shock.
Police said Palmer calmly walked into the chapel at World Changers Church International during a 10 a.m. prayer service Wednesday and shot Gregory McDowell, 39, of Union City.
Afterwards, police said Palmer calmly walked out of the church, got into a black Subaru with tinted windows, and drove off.
McDowell, a church prayer leader, was one of about 20 to 25 people in the chapel. He died after he was taken to a local hospital.
Around 3 p.m., Atlanta police spotted Palmer's car at Lenox Square Mall and began running surveillance.
Palmer was arrested without incident inside Macy's around 4 p.m. He was unarmed.
But his arrest on Wednesday may not have been Palmer's first run in with the law.
A search of Maryland court records revealed Palmer may have been behind bars before. A man with the same name and birth date as Palmer was accused of attempted murder in 2011. He pleaded guilty to a lesser charge of assault and was sentenced to several years in a psychiatric hospital.
Police said Palmer was a former employee at World Changers Church International. He resigned from his position as a maintenance worker in August, citing personal reasons.
Early Wednesday evening, Minister Ken Terry addressed the media on the McDowell family's behalf, speaking highly of the victim.
"He's a tremendous leader in our church, a tremendous server, just a dynamic guy," Terry said of McDowell.
Terry continued to say that McDowell, a longtime member of World Changers Church International, was a "model dad" to his two boys. He then asked for comfort, love and support for the McDowell family.
CBS Atlanta News spoke to members at World Changers Church International about the shooting during the church's Wednesday evening service, who were heartbroken.
"At times like this, any type of tragedy that happens, it affects the entire community and the church," said Harvey Richardson, who attended the service.
CBS Atlanta News confirmed that Creflo Dollar, the founder and senior pastor of World Changers Church International, was not injured in the shooting.
The church also has a chapel in New York, which hosts more than 6,000 worshippers each week and has a host of satellite churches across the country.
Police have not released a motive in the shooting.
Palmer's next court appearance is scheduled for Nov. 8 at 9 a.m. He will remain in jail.
Stay with CBSAtlanta.com for updates.
Copyright 2012 WGCL-TV (Meredith Corporation). All rights reserved.