Suspect in Kingman gun shop burglary found hiding in shed
Posted:
Updated: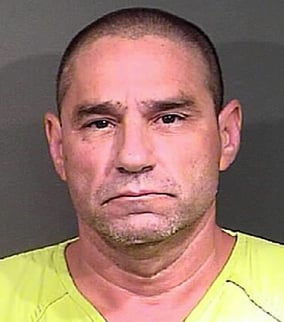 John Wheeler
KINGMAN, AZ (CBS5) -
A 52-year-old Kingman man sought in connection with a gun shop burglary early last week was found hiding in a shed Sunday after police developed new leads on his whereabouts.
John Wheeler is accused of burglarizing the business in the 4300 block of North Bank Street in Kingman on Tuesday.
Sunday afternoon, Mohave County sheriff's deputies investigated the theft of a jacket at a truck stop convenience store in the 6000 block of Minerva Lane. Deputies, acting on the description of the getaway vehicle, were able to match the car to Wheeler.
One of the deputies arriving at the truck stop spotted the vehicle drive out of the parking lot and enter westbound onto Interstate 40.
Deputies said they attempted to conduct a traffic stop, but the vehicle continued traveling. Deputies said they saw two men in the front and a woman in the backseat.
The vehicle exited north onto Stockton Hill Road where Kingman Police Department officers gave chase. Eventually, law enforcement lost sight of the vehicle as it proceeded in a neighborhood area behind the hospital.
Authorities located the vehicle again behind an abandoned residence in the area of Berk Avenue and Fifth Street. No one was inside.
Later that evening, law enforcement dispatchers received calls from residents telling them there was a man running through yards on Windsor Avenue, headed west toward the mountains.
Sheriff's deputies and police officers responded and a short time later, Wheeler was located hiding in a shed in the 300 block of Sunrise Avenue. The other two occupants of the vehicle were not located.
Copyright 2012 CBS 5 (Meredith Corporation). All rights reserved.