Dirty Dining, Oct. 18: 1 Phoenix restaurant has 9 violations
Posted:
Updated: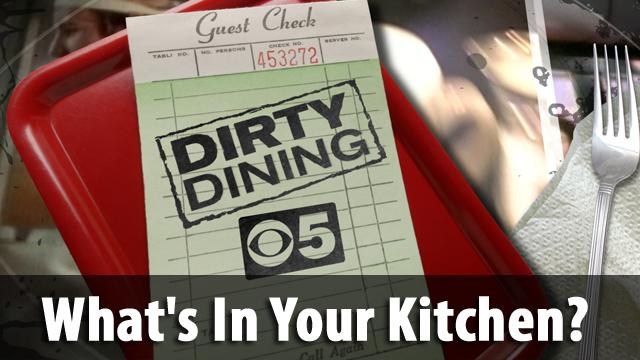 © CBS 5
PHOENIX (CBS5) -
Every week, CBS 5 News is sent a list of restaurants that recently have been inspected by Maricopa County's Environmental Services Department.
CBS 5 News selects five restaurants with some of the highest number of "risk factors." According to health inspectors, risk factors are considered major health code violations. For more details on the restaurant inspection scoring system, visit http://www.maricopa.gov/.
The Keg Steakhouse
Williams Field Rd off Loop 202 Freeway
Gilbert
5 violations
Indulge Burgers
Scottsdale Road and Shea
Scottsdale
6 violations
Jamie's Pizza & Pita
Rural Road off Broad Road
Tempe
6 violations
Baja Fresh Mexican Grill
Scottsdale Road off Frank Lloyd Wright Boulevard
Scottsdale
7 violations
Carniceria Michoacan
Thomas Road and 36th Avenue
Phoenix
9 violations
Dean's List – Those with perfect scores
Tee Pee Mexican Food
Indian School Road and 44th Street
Phoenix
Dairy Queen
Fiesta Mall
Mesa
Coco's
Bell Road and 98th Avenue
Sun City
Pete's Fish and Chips
Central Avenue near Broadway Road
Phoenix
U.S. Egg
Baseline Road and Mill Avenue
Tempe
Shangri La Ranch
New River
Copyright 2012 CBS 5 (Meredith Corporation). All rights reserved.