Friend pays it forward to young cancer survivor
Posted:
Updated: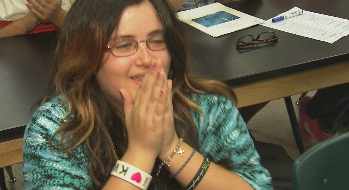 Emmaleigh Butler
PHOENIX (CBS5) -
Every once in awhile we meet a young child that just needs to be introduced to the world.
At just age 13, Emmaleigh Butler has already been through so much, but rather than crumble, she has set out to make sure other kids don't have to face the same pain she's already endured.
Emmaleigh has a view of the world that's foreign to most kids her age. She's already been through more hardship than most adults.
It all started with a trip to the doctor four years ago.
"My mom started crying and I was like 'what's leukemia?' I was clueless, I was like, 'what's going on?' and then I found out it was cancer and I thought it was a dream for a really long time," Emmaleigh said.
She went through chemotherapy and in the middle of her treatment, one of her regular visitors and constant sources of strength - her grandmother - passed away.
"I remember going in the hallway, sitting in a wheelchair and crying with my mom and then we decided, you know, we're going to kick this, we're going to get it out and we did!" Emmaleigh said.
"I feel like I've accomplished something that is just amazing," Emmaleigh added, "I feel so good about myself and I'm so proud of myself, because I was so scared."
Emmaleigh never forgot those dark days in the hospital or the faces of other kids just as scared as her, so she started going around her neighborhood, knocking on doors and asking for donations.
She did bake sales, raffles, and even walked dogs to raise money any way she could to pass it on to other kids needing something to smile about.
That's how she met her neighbor, Ayrika Williams, who is also a cancer survivor and lost her niece, Christina (whose last name was not given) to leukemia when she was about Emmaleigh's age.
"Every time I help Emmaleigh Butler raise money for someone who is going through what my family went through, it's healing for me. It's kind of a shout-out to Christina," Williams said.
The two of them together raised more than $1,000 for other children battling diseases.
Now Emmaleigh dreams of starting an official 501-C3 charity to bring much needed joy to so many more.
After all, that was also the dream of her mother, Elizabeth Butler, who passed away suddenly in June.
"It would be real easy for her to just sit down and stop, but she doesn't, she keeps going," Emmaleigh's father, Stephen Butler told CBS 5 News.
"It happened for a reason, just like it happened to me. It happened for a reason and I think that reason is to change, to change people's lives," Emmaleigh said.
And Williams wanted to help Emmaleigh continue to help others.
"So we're here today because you do so much for so many children in the community that we wanted to pay it forward to you and present you with $500 so you can get your 501-C3," Williams said.
"They say I'm just one person, I can't change the world, but you can," Emmaleigh said.
Emmaleigh has started a Facebook page called "Precious Neighbor Foundation." Click here to help!
Copyright 2012 CBS 5 (Meredith Corporation). All rights reserved.