UPDATE
PD: Phoenix man arrested for luring 2 underage girls for sex
Posted:
Updated: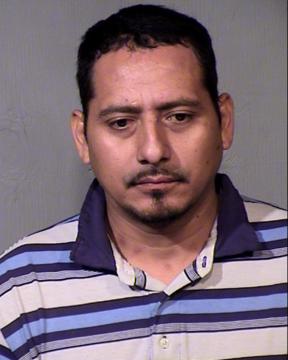 Pedro Lopez-Marroquin
PHOENIX (CBS5) -
A Phoenix man is in custody after attempting to lure two underage girls to his apartment for sex.
Pedro Lopez-Marroquin, 38, was booked in to the Maricopa County Jail on Wednesday night after he admitted to propositioning the two young girls.
The first incident occurred that evening when a 10-year-old girl was playing soccer outside her apartment complex when she was approached two to three times by Lopez-Marroquin. According to police, he grabbed the girl by her wrists when she said "what." He did not respond to her and she pulled her arm away from him and went back to playing. The next time he approached her he asked her if she wanted money for "something" as he held up a $100 bill, fortunately the girl ignored him.
While the 10-year-old was playing, a 13-year-old girl was walking her dog to the mailboxes in the apartment complex. Police said Lopez-Marroquin then approached the 13-year-old and told her to follow him to his place and they would have sex. She said "no" and walked away.
The 10-year-old witnessed their encounter and the 13-year-old went with her to tell her mom who contacted the Phoenix Police Department.
Family members of the victims attempted to confront Lopez-Marroquin who then fled on foot. He was quickly taken in to custody by responding officers and was identified as the individual who attempted to lure the girls.
The suspect did admit to propositioning the two young girls. He was booked in to jail and charged with luring a minor for sexual exploitation, aggravated assault and he also had a felony warrant for drug charges.
Copyright 2012 CBS 5 (Meredith Corporation). All rights reserved.