FBI: Run-N-Gun bandits hold up 2 credit unions
Posted:
Updated: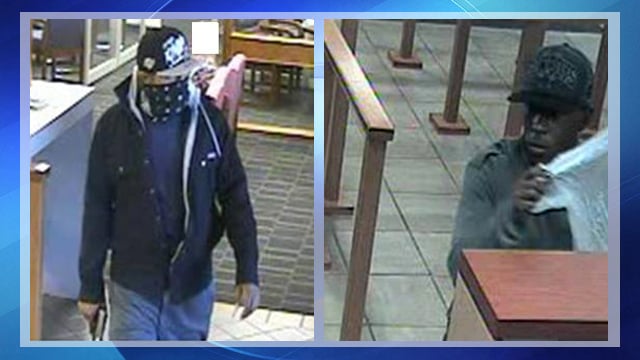 Surveillance images of the two suspects
PHOENIX (CBS5) -
A $5,000 reward is posted for information leading to the arrest and conviction of two suspects behind two Valley credit union holdups.
Desert Schools Federal Credit Union is putting up the money in the wake of recent robberies at two of its locations.
During the robberies, the two men, dubbed the Run-N-Gun bandits, enter the credit union at the same time, the FBI said. One of the men brandishes a dark, semi-automatic handgun. The other man confronts credit union employees and demands money, while the gunman remains in the customer lobby.
They rob customers inside the branch, as well as the credit union. After obtaining U.S. currency, they flee on foot through the parking lot.
Both men are black. The gunman is described as being between 20 to 25 years old. He is between 5'10" to 6' tall and weighs 180 pounds. He has dark hair and dark clothing, with a dark bandana covering his face. He wears a black baseball cap with the LA Kings emblem on the front. He's armed with a black semi-automatic handgun.
The other suspect is also between 20 to 25 years old. He is 5'8" tall and weighs 160 pounds. He has dark, long hair extending in a ponytail down his back. He wears dark clothing, a dark Dallas Cowboys baseball hat and a black Pittsburgh Pirates baseball cap. He has a quarter-inch scar over his left eyebrow.
On Oct. 4, the pair held up the Desert Schools Federal Credit Union at 3423 E. Bell Rd. in Phoenix.
On Monday, they held up a branch at 2355 S. Alma School Rd. in Mesa.
People with information about the two robberies should contact the FBI at 623-466-1999.
The FBI's Bank Robbery Task Force is comprised of the Phoenix Police Department, Maricopa County Sheriff's Office and Mesa Police Department.
Copyright 2012 CBS 5 (Meredith Corporation). All rights reserved.