UPDATE
Jury finds Elizabeth Johnson guilty of custodial interference
Posted:
Updated: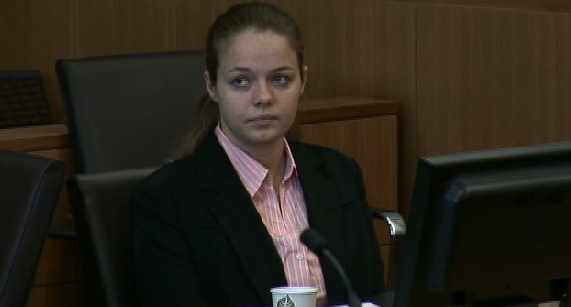 Elizabeth Johnson was found guilty of custodial interference and conspiracy in the December 2009 disappearance of baby Gabriel Johnson.
PHOENIX (CBS5) -
The jury has found Elizabeth Johnson guilty of conspiracy to commit custodial interference, custodial interference and unlawful imprisonment in the disappearance of her son Gabriel.
Jurors couldn't reach a verdict on the most serious charge, kidnapping.
"We are obviously thrilled with what the jury did today. It was really the primary effort of our case was to go after the kidnapping charge, that was the focus of exactly what we were doing," Elizabeth Johnson's attorney Marc Victor told CBS 5 News. "Our entire defense was based on the kidnapping charge. And the jury saw it our way."
They deliberated for about a day and a half.
Elizabeth Johnson is the Valley mother who ran off to San Antonio, TX, with her 8-month-old son Gabriel Johnson in December 2009. He has not been seen since.
Attorneys wrapped up their closing arguments on Tuesday and the jury began deliberation on Wednesday morning.
Prosecutors told jurors that Elizabeth Johnson was angry and determined to "get back" at the child's father, Logan McQueary. The couple had recently broken up and McQueary was granted joint custody.
Prosecutors said that Elizabeth Johnson wanted to give the child up for adoption, but when McQueary refused, Elizabeth Johnson took the child to Texas without McQueary's permission.
"She wants to get back at Logan, and she is upset, and she uses the one thing that would hurt Logan more than anything," prosecutor Angela Andrews said.
After the verdict was read, McQueary's father spoke with CBS 5 News.
"If you think about it from the jury's perspective, let's not anybody think bad about them. They found her guilty of everything. They just didn't find her guilty of what, to us, was the most important thing, because it gave her the most prison time."
Victor did not present any evidence during the trial or call any witnesses.
He told the jury that prosecutors failed to prove their case that Elizabeth Johnson kidnapped her son.
Victor admitted that his client was guilty of custodial interference, but said that Elizabeth Johnson had every right to leave the state with her son at the time that she did.
"This is not a case about whether or not you like Elizabeth Johnson," said Victor. "This was not a kidnapping."
Judge Joseph Kreamer on Tuesday denied a defense motion to drop the kidnapping charge against Elizabeth Johnson.
Victor said in his motion that Arizona does not have the jurisdiction to prosecute Elizabeth Johnson for kidnapping. [Read full motion (PDF)]
Victor's motion states Elizabeth Johnson legally traveled to Texas with her son and every element the state presented in the kidnapping case would have occurred in Texas, outside the jurisdiction of Arizona.
[SPECIAL SECTION: Elizabeth Johnson, Baby Gabriel.]
Elizabeth Johnson pleaded not guilty to charges of kidnapping, custodial interference and conspiracy in the December 2009 disappearance of her son.
Elizabeth Johnson, who has been jailed without bond since January 2010, has changed her story since the ordeal began.
She initially told the boy's father that she killed her son and put his body in a dumpster, but later told authorities she gave the child away to a couple in San Antonio.
All charges she was convicted on are probation eligible, but the jury did find aggravating circumstances on Thursday so that could come into play when the judge sentences her.
Elizabeth Johnson has already spent nearly three years in jail, which could satisfy any sentence imposed.
Elizabeth Johnson's attorney tried to get the judge to change her release conditions and set her free from the courtroom.
The judge denied that, instead imposing a $1 million cash bond.
A hearing on her release conditions is set for early November.
Stay with cbs5az.com and CBS 5 News for team coverage.
Copyright 2012 CBS 5 (Meredith Corporation). All rights reserved.
UPDATE

Jury finds Elizabeth Johnson guilty of custodial interference

More>>

Thursday, July 10 2014 5:11 PM EDT

2014-07-10 21:11:07 GMT

COMPLETE COVERAGE: Missing Gabriel Johnson

More >

COMPLETE COVERAGE: Missing Gabriel Johnson

More >